Over a period of 3 months, Al Faris has transported 19 various vessels covering a distance of 150 km for a crude-oil production facility in Abu Dhabi. The heavy lift specialist provided its client with a complete solution for loading these vessels from different manufacturer's locations to Hamriyah and Jebel Ali Port. Then received these vessels at Mussafah port and land transported as well as off-loaded to clients site.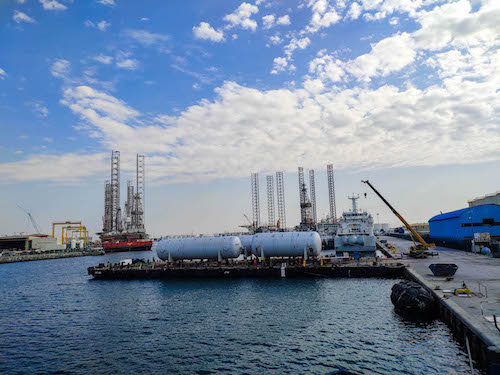 For this transportation which was critical in nature due to close proximity to a live plant, Al Faris has relied on its Goldhofer hydraulic multi axle & self-propelled trailers using up to 68 axle lines for crossing the heaviest load of 293t. For offloading purposes at various locations inside the plant Liebherr 1000t, 600t and 400t crawler cranes were used.
One of the main challenges was to cross ADNOC Gas Pipelines which are at a depth of around 2m from the ground level. The other big challenge was to cross the Etihad rail. For this, Al Faris proposed a solution to design and fabricate a customized temporary steel bridge. The proposal was approved by Etihad railway technical team and stakeholders. The crossing was executed in a very constraint time frame. A window of 06 hours was provided for bridge installation, crossing and removal of bridge for 4 cargos.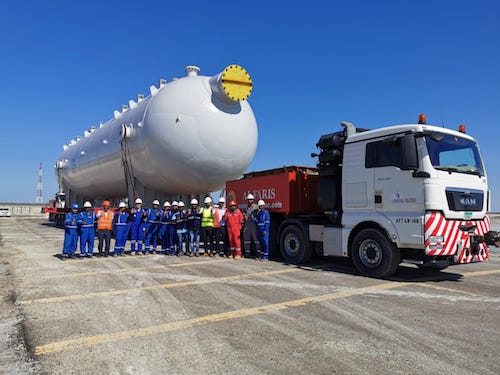 A total of 19 vessels were transported of which maximum dimensions are: 1st Stage Separator – 293t (32m (L) x 7.5m (W) x 8m (H)); Dewatering Separator – 252t & 157t; Slug Catcher – 210t; H2S Stripper Column – 141t; 2nd Stage Separator – 130t.
This crude-oil production facility expansion will allow production capacity to increase from 420,000 barrels to 450,000 barrels of oil per day in 2020