This intricate project involved the transportation of a transformer from Dublin Port to its ultimate destination at Corduff Substation. Collett & Sons' role went beyond transportation, encompassing critical tasks like route surveys, logistics management, offloading, and precise positioning of the transformer. The transformer's dimensions were 9.3m in length, 3.6m in width, and 4.6m in height, resulting in a total vehicle length of 65.4 meters when loaded. To ensure safe transportation of this oversized cargo, a comprehensive swept path analysis report was meticulously produced, assessing every turn along the route.
Prior to the transformer's arrival at Dublin Port, Collett & Sons mobilized their 550-tonne capacity girder frame trailer and heavy tractor units, which were transported from the UK to Ireland. Upon the vessel's arrival at Dublin Port from Rotterdam, their teams expertly navigated Wagenborg's 22-axle trailer, loaded with the 184-tonne transformer, to a designated transshipment area. Here, it was carefully lowered onto stools using the trailer's hydraulic suspension.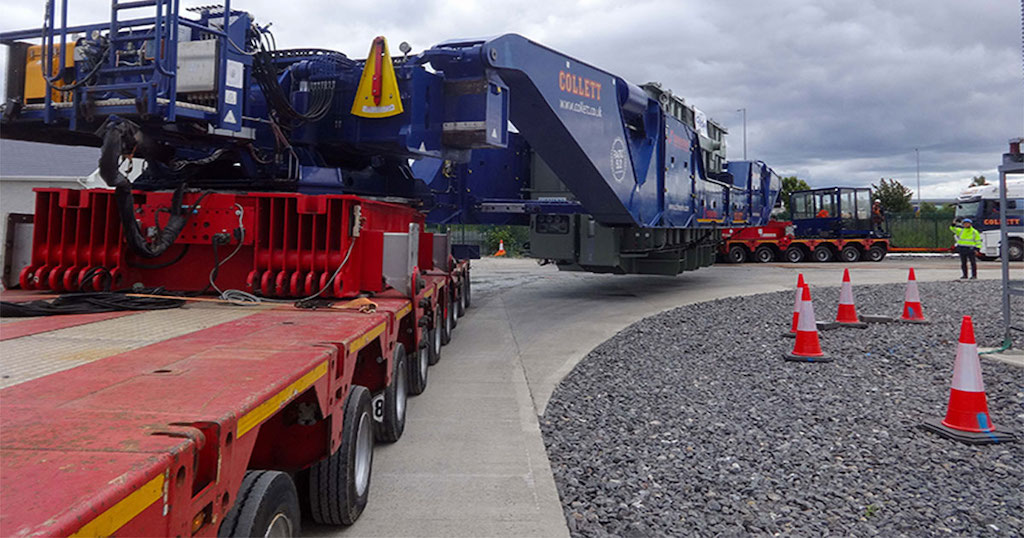 Subsequently, a girder bridge trailer was assembled around the transformer for self-loading, after which it was transported to a storage area, awaiting its final delivery.
The delivery itself took place during nighttime movements, strategically planned to traverse through Dublin City Centre. Covering a distance of 13.4 miles, the journey lasted four hours, with a maximum vehicle speed of 5 miles per hour. Police escorts and Collett & Sons' in-house pilot cars accompanied the 65.4-meter-long load to the substation site.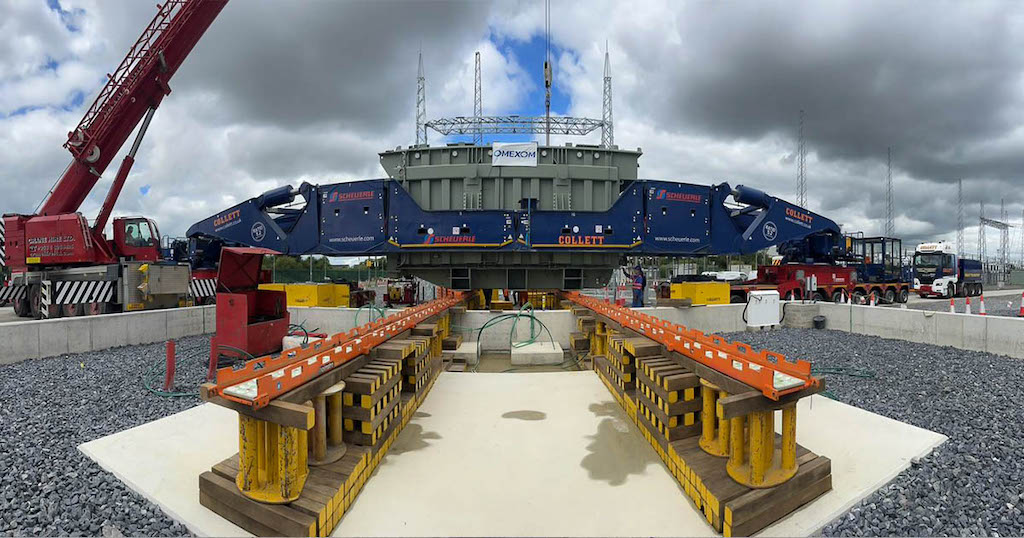 Upon arriving at Corduff Substation, the team faced the challenge of navigating the site while accommodating overhanging cables. The trailer's suspension was lowered to safely pass under the cables. Once alongside the bund area, the transformer was self-offloaded onto the skid track and skated 16 meters onto the final plinth.
Hydraulic jacks were then used to lower the transformer onto the plinth, where it was meticulously moved into its final position using specialized positioning plates.