On behalf of Rhenus Project Logistics, the Collett Team has achieved a significant milestone by successfully completing the first two deliveries of a crucial upgrade project. This achievement represents a significant step forward in the ongoing efforts to extend the operational lifespan of a power station for decades to come.
The primary objective of this upgrade project is to ensure the continued functionality and longevity of the power station. To achieve this, a total of six valves are required for the project, each weighing an impressive 160 metric tons and measuring 5.3 meters in length, 4.7 meters in width, and 3.7 meters in height.
The first two inlet valves of the project arrived at the Port of Penrhyn, situated to the East of Bangor in North Wales. Under the stringent conditions of a CPA Contract Lift, both valves were expertly discharged from the vessel using an 800-metric-ton mobile crane.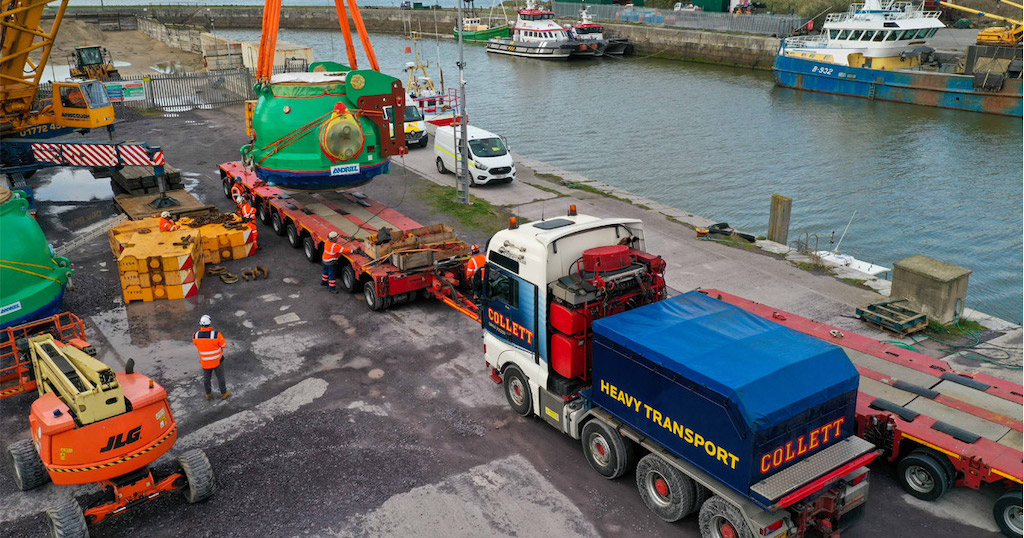 To ensure the safety of the transportation process, each valve was securely fastened onto two 10-axle modular trailers. The journey from the port to the Dinorwig Hydro-Electric Power Station covered approximately 12 miles and took approximately 3 hours to complete.
Throughout the transport, a comprehensive support system was in place, including full police escorts and our own escort vehicles. The loaded trailers were accompanied by three 8×4 ballasted tractor units, with two acting as primary units and one providing additional support.
Upon arrival at the power station, the two main inlet valves were carefully transported to a designated storage area and securely placed on stools. Following this, preparations were made for the valves to be transported into the mountain and offloaded using overhead gantry cranes.
Dinorwig Hydro-Electric Power Station, located near Llanberis in the Snowdonia National Park, holds the distinction of being the largest pumped hydroelectric storage facility in the UK. With a maximum power supply capacity of 1,728 megawatts and a storage capacity of approximately 10 gigawatt-hours, the station efficiently manages water between the Marchlyn Mawr reservoir and the Llyn Peris Lake to generate power as needed.