The Al Faris Group is a globally established partner to leading companies in the Middle East for the rental of heavy equipment ,heavy transportation and heavy lifting operations for major construction projects For the transportation and rental of heavy, long and outsize loads, the experienced logistics specialist has been relying on towed and self-propelled heavy-duty modules as well as semi-trailers from Goldhofer for many years now. The vehicles produced in Memmingen give the industry leader in the United Arab Emirates an extremely broad-based fleet for a full functional range.
The family-owned company with twenty-eight years of experience to its credit offers a wide range of safe and reliable heavy lift and heavy haulage solutions using the most advanced equipment combined with integrated and sustainable best practices. In addition to the largest fleet of cranes and heavy equipment in the Middle East, the heavy lift and transportation specialist has an extensive network of depots, service engineers, technicians and dedicated teams of professionals. Al Faris has played an integral role in the construction work for numerous iconic projects such as the Dubai Metro, Dubai Mall, Riyadh Metro, Palm Jumeirah and Burj Khalifa. The major industries in the region such as oil and gas, shipping, construction, petrochemicals and manufacturing also rely on the proven expertise and long years of experience of the Al Faris Group.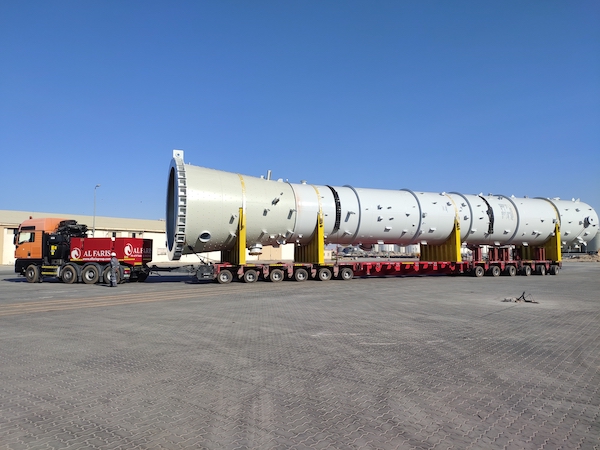 Longstanding partnership
For 12 years now, Al Faris has been relying on Goldhofer solutions in the form of low loader semi-trailers and heavy-duty modules to deliver heavy construction machinery and generators, long components, outsized vessels, and even ships and shiploaders to their destinations. "Whatever type of vehicle involved – low loader semi-trailers or towed or self-propelled heavy-duty modules – the flexible configurations available with Goldhofer put us in a position to provide a rapid response with reliable transportation solutions for our customers and to implement them quickly and economically," says Hillary Pinto, founder of the Al Faris Group.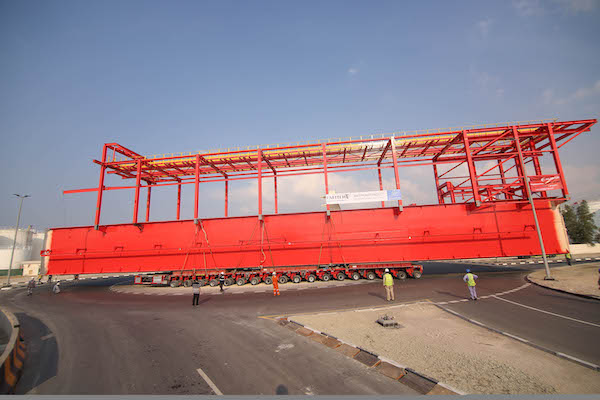 Everything that is long, high, heavy and voluminous
In the course of its close partnership with Goldhofer, Al Faris has handled almost everything that is long, high, heavy and voluminous in the petrochemical, construction, oil/gas and manufacturing industries. "Our flexible Goldhofer fleet has enabled us to master every transport requirement to date, no matter how challenging," says, Mr. Hillary Pinto. Last year alone, the company transported not only 19 oversized separator vessels over a distance of 150 kilometers to a crude oil production facility in Abu Dhabi but also extremely heavy ship loader and bucket wheel stacker components to the port of Jebel Ali for onward shipment to the Canadian Baffin Islands. 
Precision planning and organization
Al Faris recently transported a tugboat and pontoons over a distance of 140 kilometers to the Hatta Dam, where an environmentally friendly pumped storage hydropower plant with a generating capacity of 250 MW is being built. The route involved several narrow passages as well as overhangs and power lines with very low clearance heights. Following careful planning, Al Faris chose a heavy-duty Goldhofer drop-deck combination for the first stage leading from the port through the urban area, and that made easy work of the narrow passages and roundabouts. For the up to 23 degree gradients in the Hatta mountains, however, towed THP and self-propelled PST heavy duty modules were used. The result: As with many other heavy haulage jobs, the tugboat and pontoons reached their destination right on schedule. "Within our fleet, Goldhofer's heavy-duty semitrailers and modules play an important and reliable role. They form the basis for our precision planning and organization – and our reputation for punctual delivery," says Hillary Pinto.