Bovis, a heavy lift transport and logistics company, recently provided a unique solution to Futuroscope Poitiers, a popular theme park in France. With two cranes already on site, the park needed a safe and efficient way to lift over 100 newly assembled Ecolodgees, each weighing 12 tonnes and measuring 10 meters long, onto special trailers for transport to the neighboring park.
The solution was to use Enerpac cube jacks, which allowed the Ecolodgees to be lifted from underneath, enabling production line assembly to continue uninterrupted using one of the nearby tower cranes. Bovis successfully completed the operation over several weeks, lifting four Ecolodgees onto trailers each day.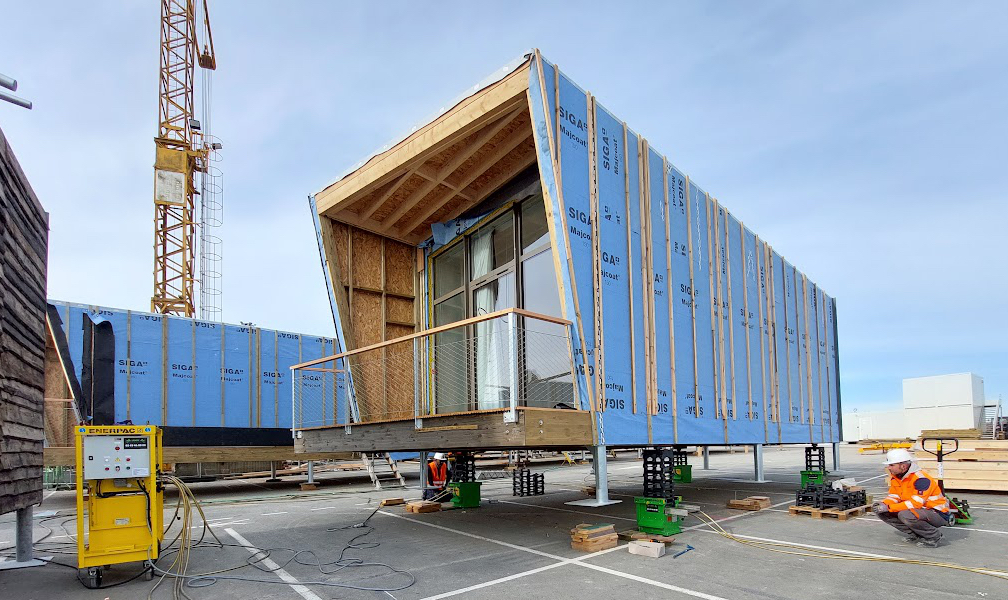 The Ecolodgee cabins, which are an alternative to the park's hotel, provide great accommodation for visitors who want to discover nature and support ecotourism. Each hut is assembled next to the park, resting on integrated legs 800mm above the ground. To transport the huts to the park, Bovis had to find a safe method of lifting them to the required height of 1700mm without the need for another large crane, as a tower crane was already mobilized on site.
Bovis used four compact Enerpac SCJ-50 cubic cylinders and a split flow pump to lift the huts to the correct height. The Enerpac SCJ-50 cube jack uses a basic lifting frame and self-aligning lightweight steel blocks, as well as automatic incremental locking, to provide a stabilised, high-capacity lift. It is a safer, more controlled, more efficient, and environmentally friendly alternative to climbing jacks used with tropical hardwood wedges. The minimum initial lifting height of 558 mm increases flexibility and reduces start-up time for operations.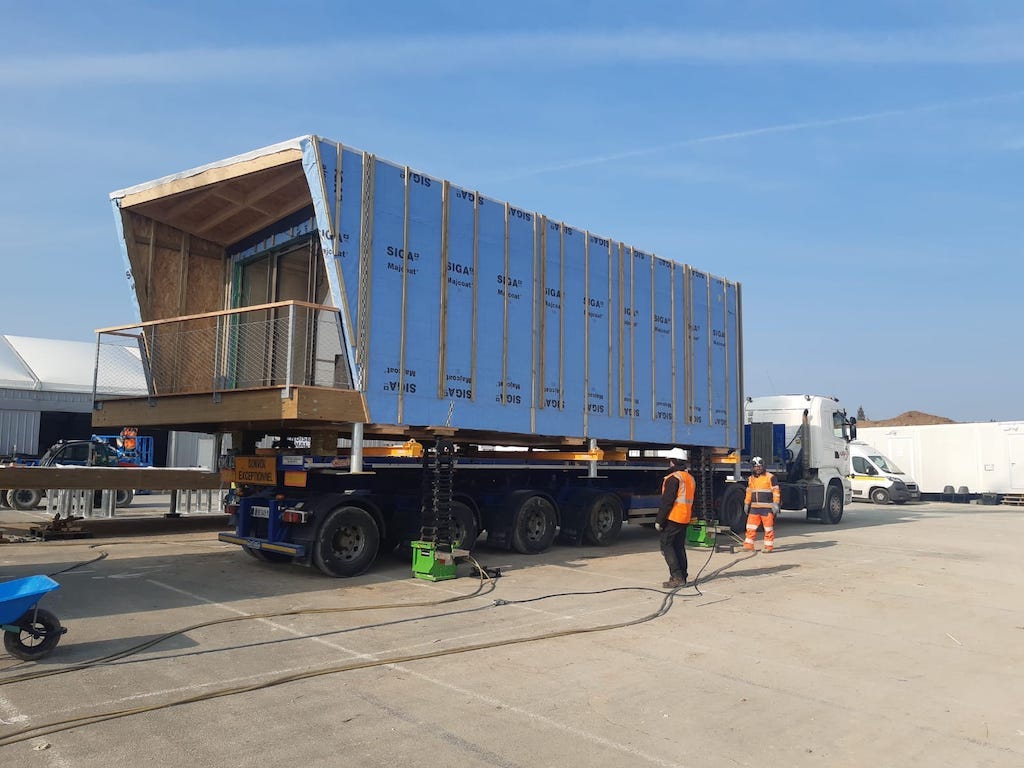 Jérôme Lebrequier, Industrial Project Manager, and Cédric Nau, Business Manager of Bovis Centre, expressed their satisfaction with the use of Enerpac cubic jacks. According to them, the cubes took up very little space on the Ecolodgee production line and only required two engineers to operate, making the whole project very cost-effective. The use of cube jacks also eliminated the need for a second crane and made the work safer.
Futuroscope Poitiers is the only theme park of its kind in Europe, covering 60 hectares of greenery and offering 25 original experiences, including the Ecolodgee cabins. With over 50 million visitors since its opening, it is one of the most popular theme parks in France.