Goldhofer Aktiengesellschaft is extremely pleased with the success of this year's CONEXPO held in Las Vegas. The company's CEO, Matthias Ruppel, expressed his satisfaction, stating that the interest shown by trade visitors in the new products presented was overwhelming. The company's expectations were more than exceeded with regard to demand for top-quality transportation solutions and value-creating services.
One of the key factors contributing to Goldhofer's success at the event was the company's range of vehicles developed specifically for the North American market. Among these vehicles, the Goldhofer P12 PLUS highway trailer was of particular interest to customers, along with the STZ-P9.
The P12 PLUS highway trailer is highly flexible and suitable for a wide range of applications. In its 12-axle version, it has a maximum payload of up to 281,000 lbs (127 t) at an axle load of 26,400 lbs (12 t). The hydraulic steering has been optimized for traveling on public roads, making it an all-rounder for the long-distance highways of North America. Freight forwarders can operate with a single vehicle to transport a variety of special and everyday loads in the various states, thanks to its multiple variants and flexible configuration options.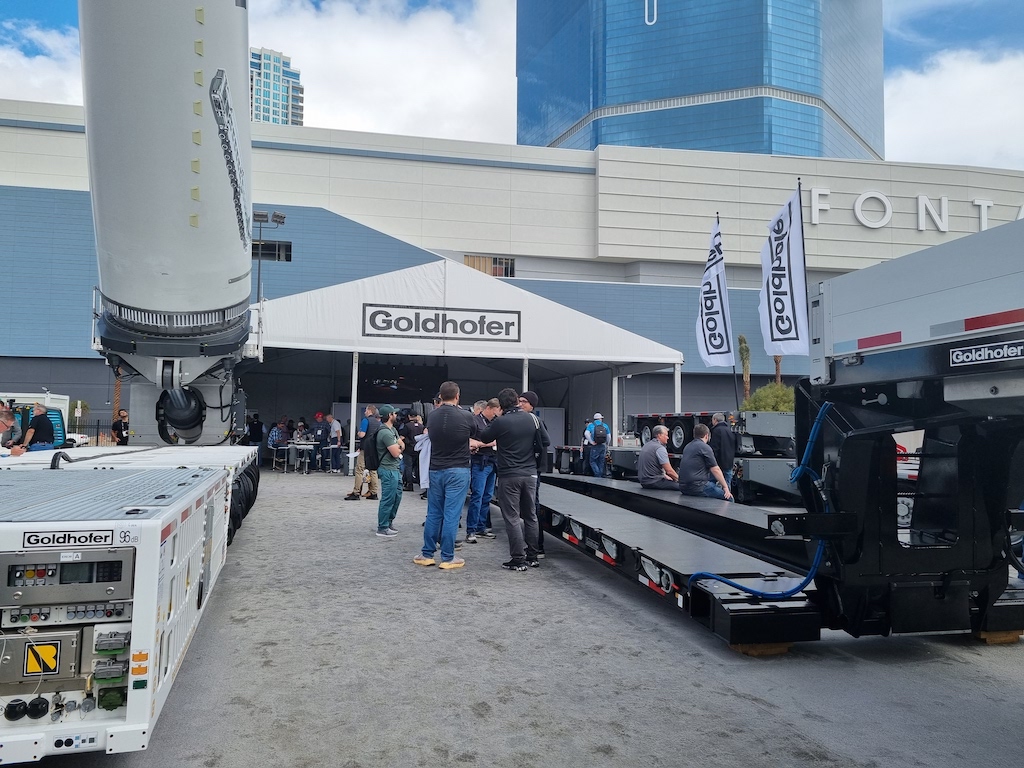 Another vehicle that attracted keen interest was the STZ-VL three-axle lowboy semitrailer with an additional flip axle. The additional flip axle increases the vehicle's flexibility and payload and enables it to operate across interstate lines with changes in regulations. This is a key consideration on the North American market, where regulations can vary significantly from state to state.
The highlight of the event and an absolute eye-catcher was Goldhofer's "ADDRIVE" with the FTV 850 blade carrier. With the "ADDRIVE" 2.0, the Bragg company has opted for an intelligent transportation solution for its fleet. The vehicle combines the advantages of a towed heavy-duty module with those of a self-propelled module. With its enormous tractive force, it supports the tractor unit up to a speed of 31 mph (50 km/h). The driven axles are then disengaged automatically and can be re-engaged at lower speeds while driving. This means greater efficiency and optimum flexibility for every vehicle fleet.
The "ADDRIVE" was presented in combination with the FTV 850. Mountain Crane, the buyer of the blade carrier, took the opportunity to mount a sawed-off wind turbine blade for demonstration purposes, making the unit a real crowd-puller. The FTV 850 is designed for maximum safety and stability for wind turbine transports. The new design concept makes light work of difficult routes and minimizes the need to make changes to the roadside infrastructure. Narrow passages in built-up areas, forests, and winding roads present no problems to this maneuverable combination.