CLP's hydraulic gantry crane, the LG202-0640, has been delivered to Nippon Express' headquarters in Japan, one of the major playersin the global transport and handling sector. The prestigious customer selected CLP due to their investment in a hydraulic gantry crane with a lifting capacity of 200 tons and a maximum height of 6.4 meters.
The machine was specially designed and manufactured to meet Nippon Express' unique requirements, which required a compact size to comply with Japan's stricter regulations. Following acceptance tests at CLP workshops with two Nippon Express technicians present, the machines were prepared and shipped in two containers with all required accessories under the supervision of Nippon Express Italy.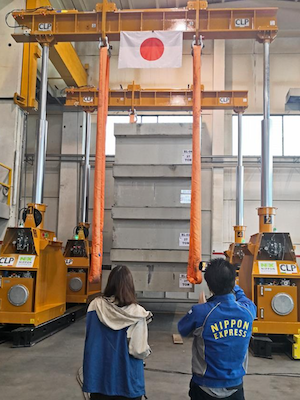 Once the LG 202 arrived in Japan, it was installed at the Takamatsu site, and the operating staff were trained to familiarize themselves with its functions and features. CLP is honored to have become a supplier to Nippon Express, acknowledging the company's long-standing commitment to excellence.