Siemens Gamesa plans to build a large offshore nacelle manufacturing facility at the Port of Coeymans in New York, pending the selection of their wind turbines in the state's third offshore wind solicitation. The facility is expected to create about 420 direct jobs, support a significant increase in indirect jobs, and represent a $500 million investment in the region. Siemens Gamesa also intends to localize several new component supplier facilities to develop a sustainable local supply chain ecosystem and potentially double the number of jobs. 
As part of the United States' goal to achieve 30 GW of offshore wind power by 2030, New York plans to acquire at least 2 GW and up to 4.7 GW of offshore wind energy in their third procurement round, targeting a total of 9 GW.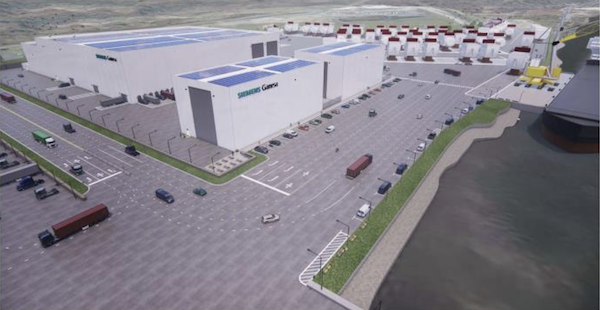 Advanced engineering plans and 3D visualizations have been developed, with potential for facility expansion. The announcement builds on Siemens Gamesa's successful track record in establishing major manufacturing facilities in markets with stable frameworks to meet growing demand for offshore wind.
"The announcement of this proposed facility in New York is a major step forward in our desire to lead the massive U.S. offshore wind market. We're excited by the opportunity presented by the State of New York to further develop our manufacturing footprint. We have a solid history in delivering on our commitments across the globe, including the establishment of offshore wind-focused plants in Denmark, France, Germany, Taiwan and the United Kingdom. The numerous economic, employment, and environmental benefits that offshore wind presents are enhanced by solid policies and frameworks, which are critical for financial success," said Marc Becker, CEO of Siemens Gamesa's offshore business.