Heavy transport specialist P. Adams added three blade transport systems (RBTS) from TII Scheuerle to its fleet and has already mastered the first practical application with 83-metre-long blades. A total of 24 rotor blades had to be transported along the approximately 170-kilometre route from the port city of Uddevalla in western Sweden, where the wind turbine components were handled, to Knöstad, which is located further north-east. A leading European wind farm developer needed the 24 rotor blades to set up eight wind turbines there.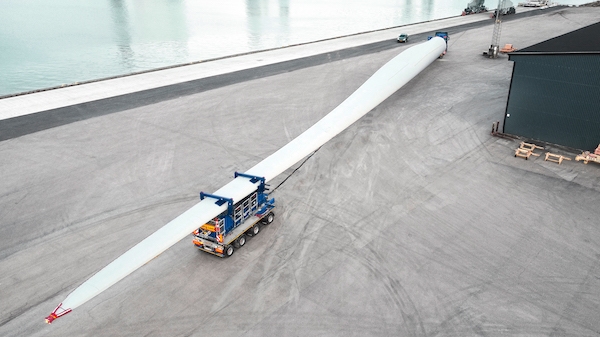 The particular challenge of this task was transporting goods that were 83 metres long. These rotor blades are amongst the longest versions available on the market. The loaded tractor-trailer combination was 96 metres long and weighed around 65 tonnes, whereby the load itself was in the region of 30 tonnes. Precisely because of the length of the vehicle combination, this was a task for real professionals such as those who work at the Luxembourg-based company Transpalux, which belongs to the P. Adams Group. "Transport equipment such as the RBTS from TII Scheuerle is the only alternative for transporting rotor blades with lengths of more than 75 metres over long transport routes. After the first major deployment, we are very satisfied with the jeep-dolly trailer combination," said Stephan Adams, Managing Director of the P. Adams Group.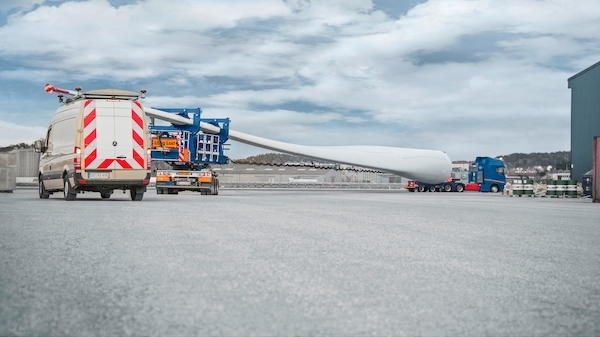 The Scheuerle RBTS consists of a two-axle jeep dolly together with a free-turning device and a four-axle trailing unit. It is also possible to mount the free-turning device directly on the truck tractor, but this means that a four-axle or five-axle semi-trailer tractor is required due to the high fifth-wheel load while Transpalux uses three-axle vehicles. Assembly of the wind blade is carried out according to the plug-and-play principle. With the help of a special lifting device, the wing root is picked up from the ground. The quick coupling solution is comprised of the free-turning device along with the root adapter and a root frame that is connected to the blade root. This frame can then be secured to the free-turning device in next to no time with the help of the adapter. A clamping device on the trailer unit is used to fix the tip of the rotor blade into position. It can be adapted to accommodate rotor blades from other manufacturers.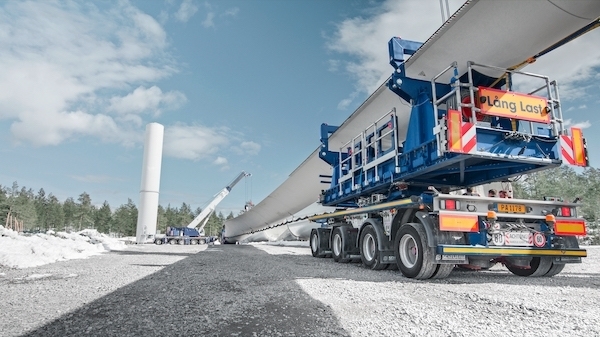 The deployment marked a first for the RBTS at P. Adams. All three RBTS trailer combinations were used in Sweden. "Prior to this transport assignment, our drivers had only worked with telescopic semi-trailers and up until now we had only had the opportunity to try out the RBTS in the form of a test load. However, in the end this wasn't a problem for our drivers. They quickly became familiar with the equipment functions. It all worked out extremely well," said Adams.