Manitowoc has launched largest topless crane, the Potain MCT 805, for key Asia-Pacific and Emerging markets. Manufactured at at Manitowoc's Zhangjiagang, China factory, the new model, which is similar to the MDT 809, is available in 32 t and 40 t capacity configurations, with an 80 m jib and a height under hook of 84 m. This high working height comes courtesy of the reinforced K-mast system with newly developed installation bases. In particular, customers will find that the 8 m cross-shaped base offers performance characteristics more commonly associated with a 10 m chassis.
With a counter-jib no longer than 27.3 m enabling a 7.5 t capacity at 80 m reach, the tip load of the M32 and M40 configurations is ideally suited to meet the growing need for lifting heavier loads within confined job sites. The maximum 32 t load capacity of the M32 version is available to distances of well over 22 m, while on the M40 version the 40 t maximum load can be handled out beyond 18.5 m.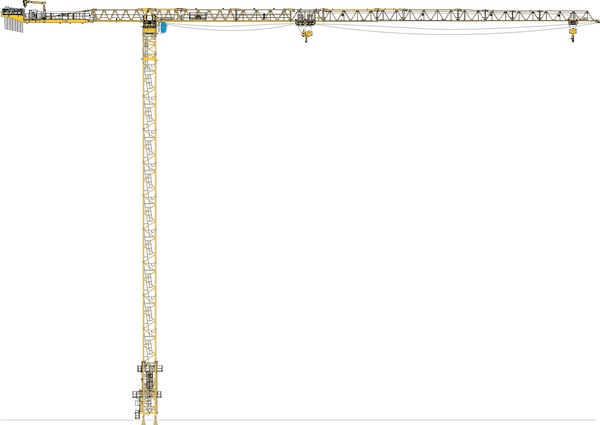 Frequency-controlled hoists are available in a number of variations; two highlights are the 150HPL80 on the M32, which can lift 1.8 t at 151 m/s, and the 270LVF100 Optima on the M40, which can raise 3.5 t at 162 m/s. For both the M32 and M40, a maximum drum capacity of 1,063 m of rope is available if fitted with the larger hoist option. Customers can choose from a two-fall configuration on the trolley for faster lifting, or four-falls for heavy lifting.
While other 40 t capacity cranes can typically require up to 14 containers for transport, the rotating section of the MCT 805 can be moved in either 10 or 11 loads depending on how the crane is being transported. All jib sections fit inside a standard container, making it a compact transport solution. This is possible thanks to a jib design measuring just 1.55 m wide and under 2.5 m high.
Fast set up
According to the manufacturer with best-in-class transport and erection requirements for a crane of 800 mt (on par with 450 mt cranes), the Potain can set up twice as fast and requires less space than conventional 40 t cranes. With its full 80 m jib, the crane can be assembled to a 50 m working height in less than three days.
In addition, the 8 m cross-shaped base is also easier to set up than its 10 m alternative. It consists of a main girder and two half cross-girders that connect easily with pins. Mast and jib section lengths have also been designed to match customer requirements, including the 10 m mast for rapid erection, 5 m mast for telescoping, and 3.33 m mast for fine-tuning height.
Using the dedicated slinging points and connection systems for faster and simpler on-site assembly, the jib can be built up in 5 m increments from 30 m to 80 m, either on the ground or in the air, depending on site conditions and available space. Its modular design without tie bars enables several configurations in addition to the lighter package weights. The rotating cab and easy-connect points for the folding counter-jib further simplify erection. Once the wired towerhead/cab assembly has been fitted, there is no need to dismantle it between jobsites.
"The advantages of fast assembly and compact design is really driving the growth in demand for topless cranes, but the growing popularity of modular construction methods is also creating greater need for higher-capacity models," said Thibaut Le Besnerais, vice president, brand, and product management for tower cranes at Potain Manitowoc.
"So the early success of the MDT 809 made it apparent that other regions served by our Zhangjiagang factory would also enjoy the benefits of its innovations, making the decision to launch the MCT 805 relatively easy. But those innovations don't stop at performance, transport, and assembly – for instance, there are several new features that simplify servicing, such as the jib design that aids access to key crane components."
The MCT 805 will be available in China and the rest of Asia, Australia and New Zealand, the Middle East, Africa, and Latin America markets.