The new Kamag PT (PrecisionTractor) development is a tractor unit specially designed for all handling tasks at haulage companies and logistics providers, CEP service providers, in the retail, wholesale and mail order sectors as well as at manufacturing companies and commercial vehicle rental companies. It was developed to ensure efficient and precise positioning of semi-trailers and container chassis, complementing the portfolio of yard logistics solutions of the Ulm-based vehicle manufacturer Kamag and replaces the Wiesel truck. While the Kamag PM, also known as the "Wiesel", is well known among swap body handling vehicles, the Kamag PT now presents itself as a specialist in moving and positioning semi-trailers and container chassis at depots and terminals.
"Kamag engineers have optimised manoeuvring processes. Coupling and uncoupling operations will be even faster in the future. A small turning radius, and thanks to the electronically coordinated hydrostatic drive, continuous forward driving and reversing provide the Kamag PT with precise and efficient driving characteristics," said the manufacturer.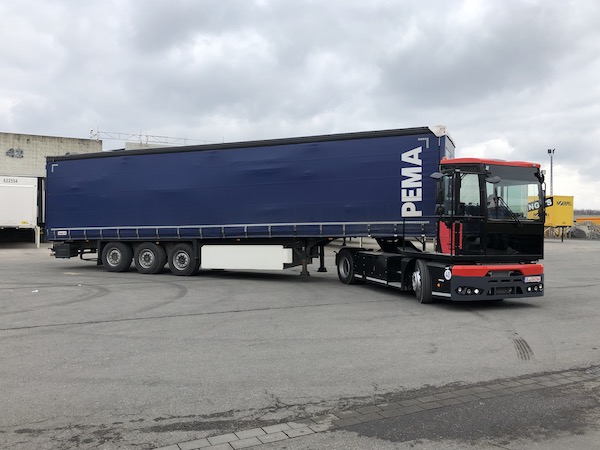 The new design of the terminal tractor opens up numerous additional advantages for operators and drivers. Hence, the driver's cab, which has been specially redesigned for improved use, offers higher level of safety. Moreover, the driver's workplace has been ergonomically optimised according to the latest findings. The cab has direct access to the work platform which leads to a significantly improved workflow. The increase in space behind the driver ́s cab also makes it easier to handle the supply lines.
Vehicle operators benefit from the increased fifth-wheel load of 28 tonnes at 25 km/h and the hydraulically operated height-adjustable fifth-wheel plate. In addition to depot logistics, the heaviest chassis can also be easily and precisely moved in terminal logistics operations at seaports and airports, rail companies as well as industrial companies in the paper, steel and aluminium industries that are known to have particularly high load requirements.