Jumbo has completed the transportation part of its Transport & Installation contract for the Yunlin offshore wind farm in Taiwan. Jumbo mobilised ships from its own heavy lift vessel fleet, together with subcontracted deck carriers and HLVs from third parties, to transport the 40 monopiles, 120 monopile sections and 40 transition pieces (TPs) from yards in the Netherlands and Germany to Taiwan. In addition to the actual transport of components, Jumbo's role was complete project management of numerous critical aspects of the project. This included the engineering, design and fabrication management of the supporting and sea-fastening elements such as cradles, grillages and load spreader beams, procurement of additional equipment and services, as well as the chartering of third party vessels. 
Jumbo secured the Yunlin T&I contract with Yunneng Windpower Co. (a Taiwanese subsidiary of wpd AG) back in June 2019. Looking back over the previous eighteen months, Laurens Govers, Jumbo Manager Commerce Shipping, outlines the impact of Jumbo working as a Tier 1 contractor. "In providing total project logistics management, we have had very short communication lines with all the project participants. We have worked with an efficient mix between our own tonnage and the support rendered by our competitor-colleagues. At all times, our client has had direct contact with the asset holder. Furthermore, at all times, our decisions have been based on what was best for the project, thereby not focusing on short-term gains, but on building long-term relations. The fact that Jumbo is a family business is a contributing factor to this successful way of working."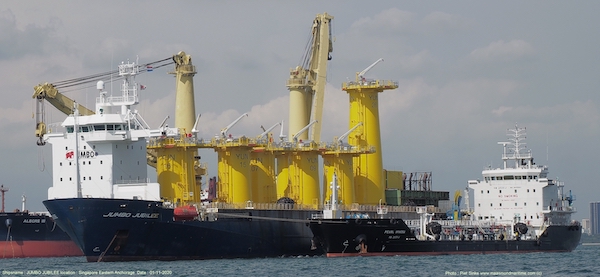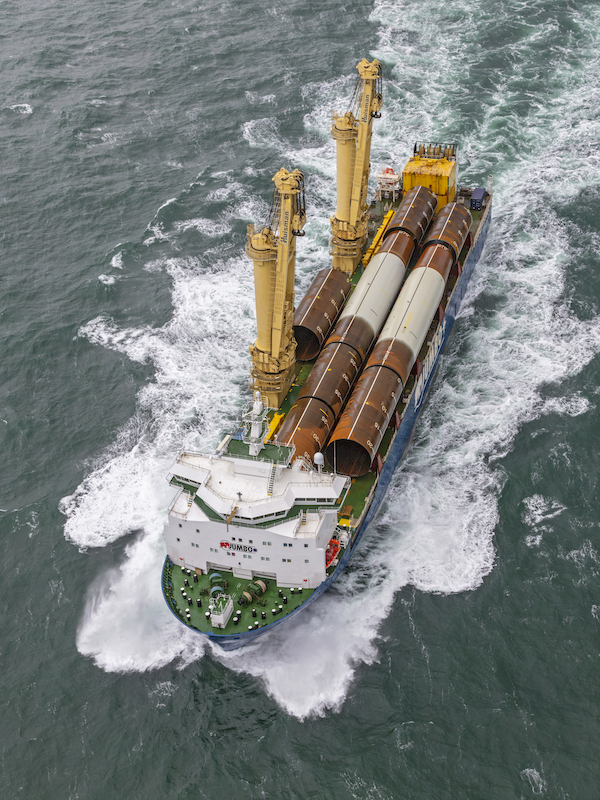 In terms of logistics, the Yunlin offshore wind farm is a substantial project; the transport of components required no less than 21 intercontinental voyages, at times with 10 TPs per voyage. "Our eye for detail in the early contractual stages enabled the smooth progress in execution of transport. We highlighted potential bottlenecks in the port logistics in Taiwan well in advance, tackling them in an open and candid fashion to safeguard our client," says Boudewijn van der Garden, Jumbo Commercial Manager specialised in Offshore Renewables. "Moreover, we supported direct berthing at the fabrication yard in Germany; this saved a lot of time. We re-used the saddles and other sea-fastenings; this saved a lot of money." 
The transport of the offshore wind substructures is now completed. In the meantime, Jumbo is ready for the installation of 80 transition pieces. Once again, Jumbo will be working at the Tier I level, contracting additional support services such as monopile cleaning specialists and TP grouting teams.