Sarens has been selected for the second consecutive year to oversee the construction of the monumental stages at Tomorrowland. With a rich history in the entertainment industry, including recent involvement in the development of the Las Vegas Sphere, the world's most advanced event venue, Sarens continues to play a pivotal role in major festivals.
Tomorrowland, a globally renowned event drawing half a million spectators annually, entrusts Sarens with the assembly of its iconic stages. Demonstrating a steadfast commitment to Belgium's vibrant music scene, Sarens lends its extensive expertise and cutting-edge machinery to the setup of renowned festivals like Rock Werchter.
In Ghent, Sarens contributed to the construction of the Jazz Festival's structure using an LTM1150 as the primary crane, capable of lifting up to 150 tons. As a world leader in heavy lifting, engineered transport, and crane rental, Sarens collaborated with Gosselin Logistics, a key player in the festival stage setup, leveraging its international proficiency for essential heavy lifts.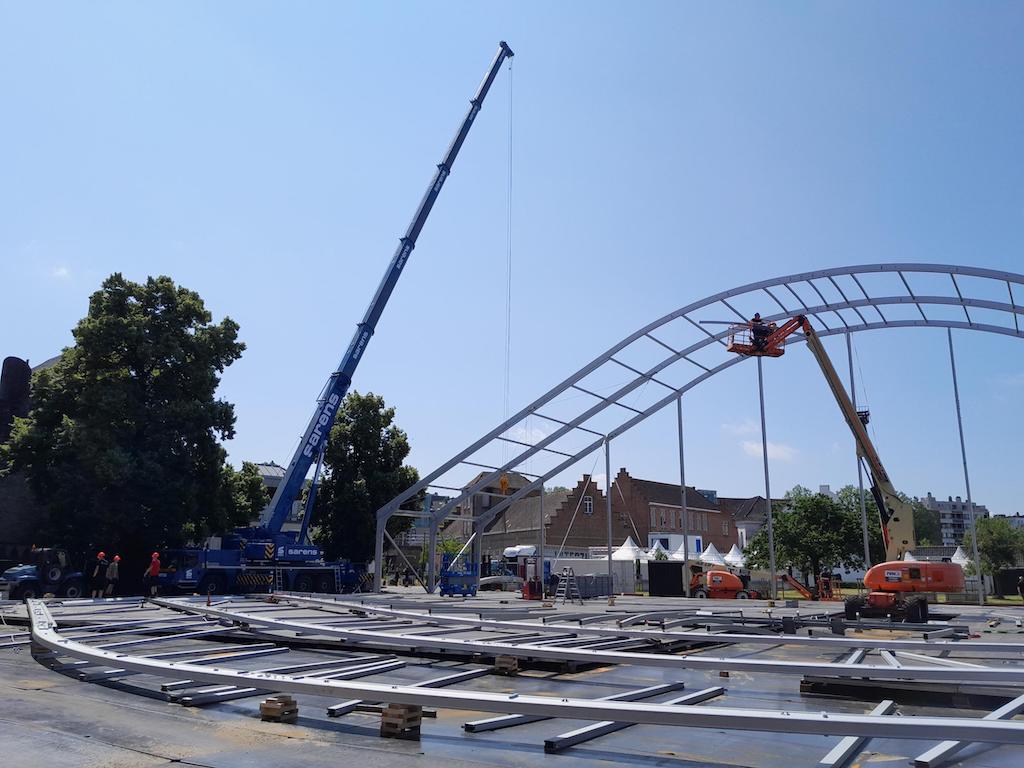 Tomorrowland, held annually in Boom, Belgium, boasts nearly half a million attendees from over 200 countries. Notorious for its intricate stage designs, each tailored to a unique theme, the main stage stands at an impressive 53 meters in height, 270 meters in width, featuring 990 square meters of video mosaics.
Sarens' engineering team strategically chose telescopic cranes with a load capacity of up to 250 tons for the festival's assembly work. These compact yet powerful cranes proved ideal for navigating challenging terrains, such as the festival site in Boom.
Machinery transported from Sarens' headquarters in Wolvertem to Boom facilitated the seamless assembly of Tomorrowland's stages for the second consecutive year. Serge Dams, the project manager, expressed pride in Sarens' ongoing contribution to the world's premier festival, highlighting the efficiency of telescopic cranes in overcoming operational space constraints.
Beyond Tomorrowland, Sarens significantly impacted the Belgian festival scene during the summer months. In Werchter, a Sarens team spent three months setting up and dismantling stages for the Rock Werchter festival, a prominent European music event attracting over 300,000 attendees annually.
The Sarens team employed three telescopic cranes with load capacities of 50, 70, and 80 tons for the Rock Werchter festival, showcasing their adaptability in complex scenarios. The festival, a fixture since 1974, generates substantial economic and employment benefits, hosting a diverse lineup of international artists.
In Ghent, Sarens faced unique challenges during its participation in the Jazz Festival's main structure assembly. Overcoming space constraints, the team utilized the LTM1150 as the primary crane and two smaller cranes for preparations. The careful transportation of equipment and overcoming logistical obstacles reflected Sarens' ability to execute major projects with precision.
Sarens' extensive experience in Belgium extends beyond festivals, including collaborations on projects such as transporting new tanks for the Citrosuco plant upgrade in Ghent and supporting Cargill in facility maintenance to enhance biodiesel production.