Baumann, a heavy lift transportation and logistics company, has enhanced its capabilities by incorporating the Enerpac SBL600 hydraulic gantry system into its heavy lift fleet. The compact and easily transportable SBL600 enables Baumann to execute heavy lift projects in confined spaces where the use of a mobile crane is impractical.
Recently utilized in Germany, the SBL600 gantry played a crucial role in installing a 176-ton transformer in a power plant. Positioned outside the building, it efficiently lifted the transformer from a flat-bed transporter and lowered it onto a self-propelled modular transporter (SPMT) for transportation into the plant. The gantry was then disassembled and reassembled within the power plant to successfully complete the transformer installation.
Described as Baumann's "Next Generation Gantry," the Enerpac SBL600 boasts advanced features, including wireless controls for the gantry and side shifts, enabling unrestricted operator positioning. Automatic synchronous lifting and built-in safety alarms alert operators to unsafe conditions, enhancing overall operational safety. The gantry's smaller footprint and foldable boom facilitate ease of transportation to project sites, making it a valuable addition to Baumann's heavy lift fleet.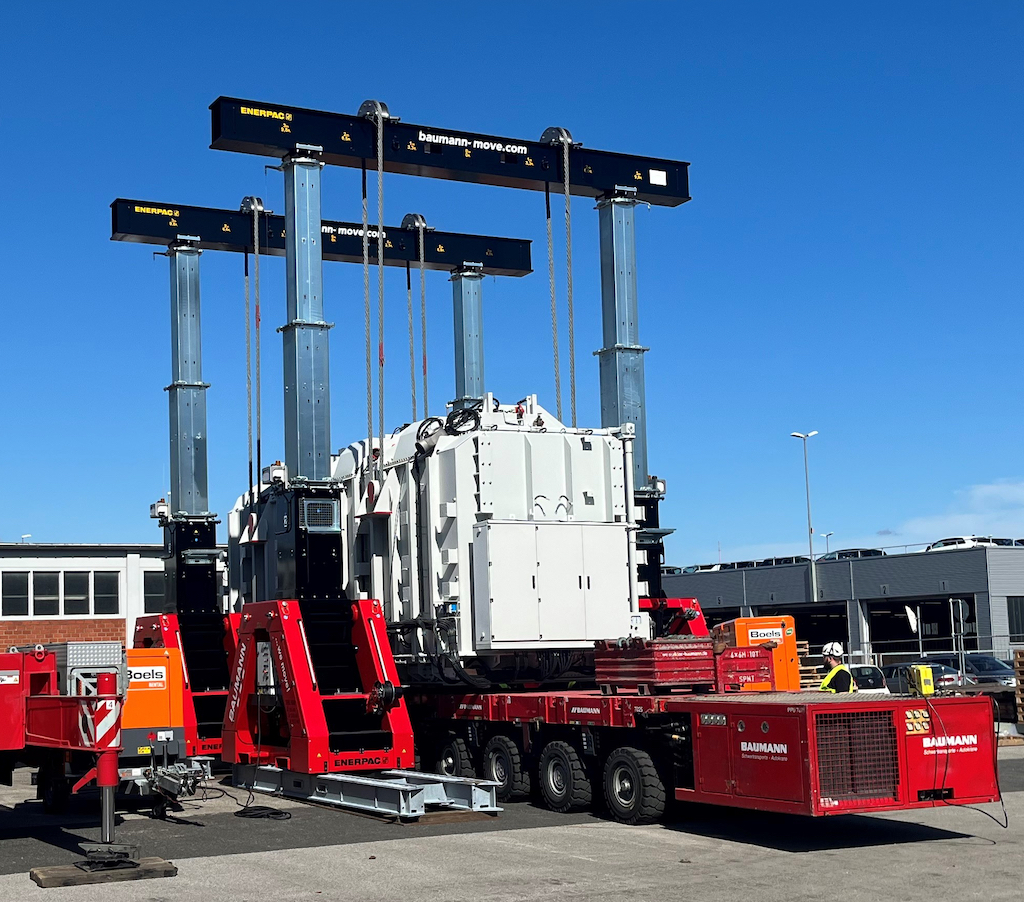 The Enerpac SBL600 hydraulic gantry has a lifting capacity of 612 metric tons and a maximum lifting height of 10.6 meters. Baumann has chosen the Enerpac electric-powered header beam side shift units, providing flexibility for the company's project team to customize the 'below the hook' distance based on header beam dimensions and project requirements. This customization reduces space requirements above the header beam, thereby increasing the available lifting distance below it. The gantry's electric side shift controls are integrated into the base units, along with a wireless control system.
Designed for easy transportation on standard flatbed trucks, the SBL600's foldable boom optimizes its transportability, reducing deployment and setup costs for this class of gantry. Sabine Baumann-Duvenbeck, Managing Director/CEO of Baumann, expressed satisfaction with the SBL600, emphasizing its technological advancements and efficiency in meeting the company's heavy lift requirements.