Vinci Construction Grands Projets, a subsidiary of Vinci Construction, has been awarded the contract to design and build a 180,000 m3 liquefied natural gas (LNG) tank in the Netherlands. This project is a pivotal part of the ongoing expansion program for the GATE (Gas Access To Europe) terminal, situated in the port of Rotterdam. It aims to increase storage capacity and regasification capability, enabling the supply of an additional 4 billion m3 of gas annually.
The project entails the construction of a cutting-edge 180,000 m3 LNG storage tank, featuring a nickel steel inner tank and a post-tensioned concrete outer container. Valued at €160 million, this contract is slated for completion by the second half of 2026.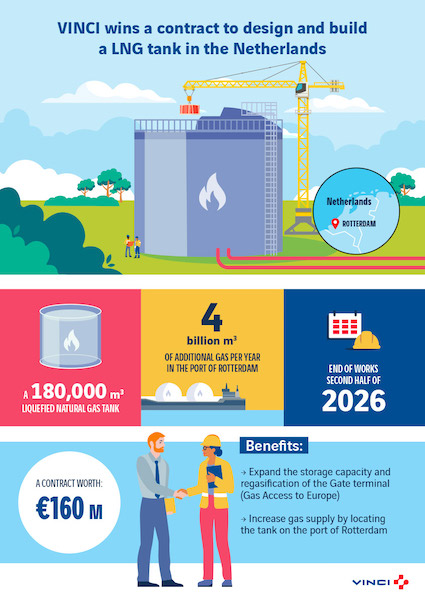 Notably, Vinci Construction Grands Projets has a history of collaboration with the same client, having successfully constructed three 180,000 m3 LNG storage tanks between 2007 and 2011 under design-build contracts.
Vinci has a history of approximately 15 LNG tank projects on a global scale in the last ten years. This includes ongoing initiatives in the UK (190,000 m3) and Canada (225,000 m3).