MAXIKraft has recently added another Liebherr LR 11000 crawler crane to its fleet, making it the third of its kind in their lineup. The company values the exceptional versatility of this 1,000-tonne machine from the renowned Liebherr factory in Ehingen. In its inaugural operation, the crane successfully assembled a Vestas 5.6 MW wind turbine at the Dünfus wind farm near Cochem, lifting components weighing up to 100 tonnes to a height of 170 meters.
Maik Kanitzky, the owner of MAXIKraft, explains the investment decision, stating, "With its special configurations, the LR 11000 offers enormous lifting capacities for wind power assemblies. But it also offers flexible deployment options for other applications." MAXIKraft utilizes multiple large lattice boom cranes manufactured in Ehingen, including LG 1750, LR 1700-1.0, LR 1800-1.0, and LR 11000 models. Steffen Lehmann, responsible for the deployment of these large cranes at MAXIKraft, emphasizes the importance of the highly flexible set-up versions and boom combinations offered by Liebherr's lattice boom cranes. He praises the LICCON2 control system, which provides real-time information on various parameters such as load, winch pull, boom position, ground pressure, and center of gravity.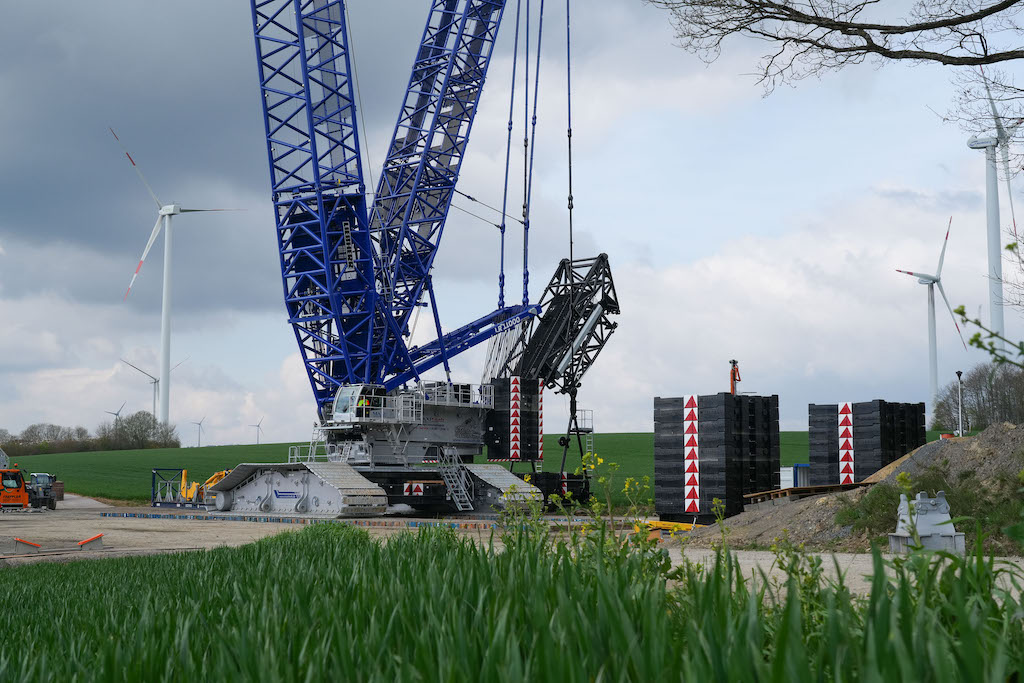 The brand new LR 11000's maiden task took it to the Dünfus wind farm, where MAXIKraft was entrusted with erecting a Vestas 5.6 MW wind turbine. This impressive turbine boasts a rotor diameter of 150 meters, a hub height of 169 meters, and an overall height of 244 meters, making it one of Germany's most powerful wind turbines. The heaviest component, weighing approximately 100 tonnes, is the gondola.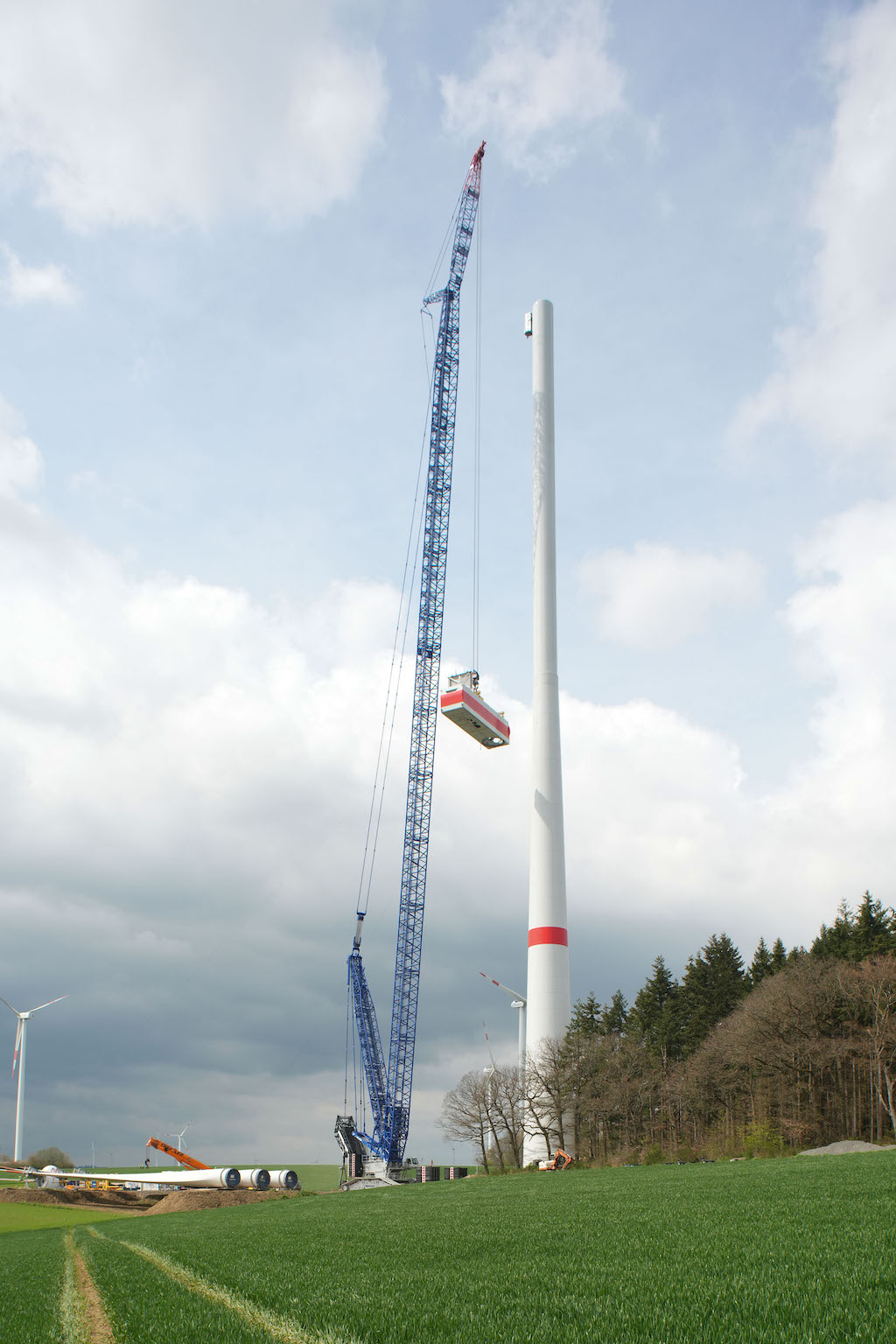 On April 19, crane operator Marco G. successfully lifted the gondola onto the tower using a special yoke, following approval from the site manager. This operation was estimated to take around two hours. The decision to employ crawler cranes was particularly advantageous due to the crane's ability to travel about 20 meters on excavator mats to reach the assembly position. For the Dünfus project, MAXIKraft configured the LR 11000 with a Liebherr 8-cylinder 500 kW engine, utilizing the SL10DF2BV set-up version with a 162-meter main boom, a 21-meter lattice-type fixed jib, and a 42-meter derrick boom. The crane comes standard with six winches, which control the movement of two hook blocks, the luffing gear for the main boom and luffing jib, as well as the V-frame for ballast positioning.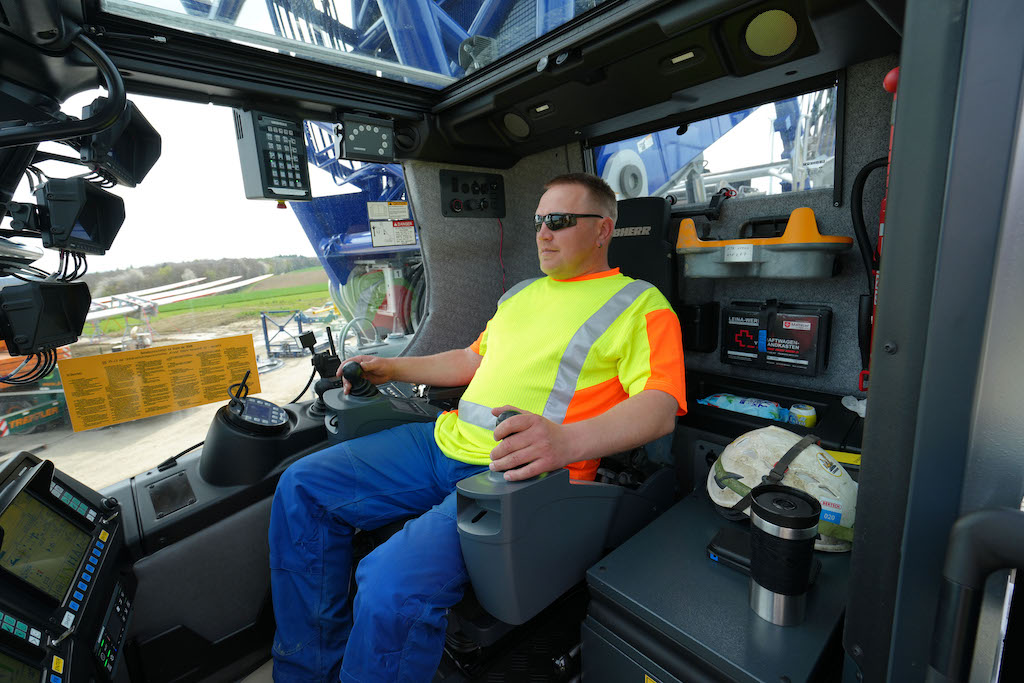 After the completion of the last rotor blade assembly, the 1,000-tonne machine was disassembled and will be transported to the next site using over 50 trucks. The compact dimensions of the crane components, with a maximum width of 3.5 meters and a height of 3.2 meters, facilitate efficient transportation. The rapid expansion of wind power generation is expected to provide numerous spectacular opportunities for the blue/silver MAXIKraft crawler cranes. Celebrating its 30th anniversary last year, MAXIKraft and its group of companies possess extensive experience in crane services and heavy transport. Their fleet comprises telescopic, lattice, and crawler cranes with lifting capacities ranging from 25 to 1,000 tonnes, alongside road transport technology capable of carrying payloads of up to 300 tonnes. With a total of 23 branches, MAXIKraft