deugro Danmark, in partnership with Siemens Gamesa and Amasus Offshore B.V., is set to launch two state-of-the-art vessels designed specifically for transporting offshore wind turbine components. The newly customized vessels, named Rotra Futura and Rotra Horizon, have been secured under a long-term charter agreement between Siemens Gamesa and deugro, with delivery expected in 2025.
Building upon the success of the award-winning Rotra Mare and Rotra Vente vessels, the new concept further optimizes the RO/RO and gantry system for offshore wind turbine transportation. Since 2016, this tailor-made approach has significantly reduced risks, loading time, and costs. With the growing size and weight of next-generation wind turbine components, Rotra Futura and Rotra Horizon have been meticulously designed to ensure exceptional cargo intake capacity and operational flexibility.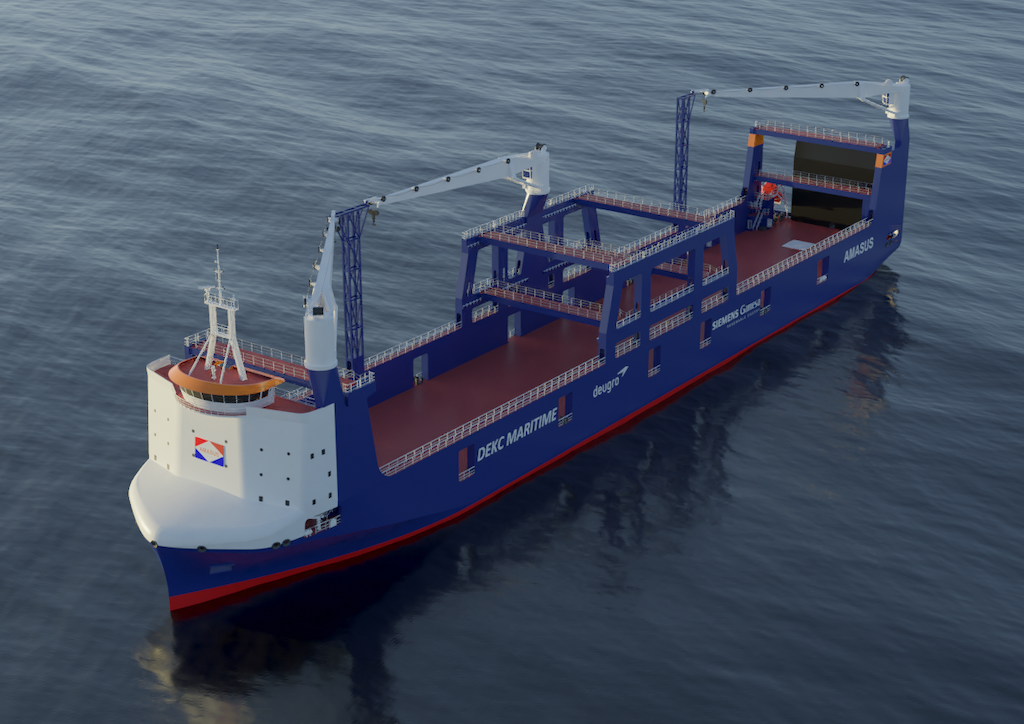 Measuring 167.6 x 26 meters, the vessels feature a forward deckhouse and accommodation layout to maximize cargo intake without any line-of-sight limitations. Equipped with a stern RO/RO ramp, three Liebherr cranes, and a unique gantry system, they offer three-tier blade stowage, providing unparalleled versatility in cargo composition and loading methods.
The design of these vessels prioritizes the reduction of carbon footprint. Energy consumption has been significantly minimized through aerodynamically and hydro-optimized hull shapes, low-resistance special hull coatings, and state-of-the-art Wärtsilä diesel engines that exhibit a 15% lower consumption and carbon footprint compared to current standards. Additionally, the vessels feature an efficient power train with a hybrid propulsion system and an exhaust gas cleaning system that adheres to the highest IMO Tier 3 standards. Special attention has also been given to waste heat recovery.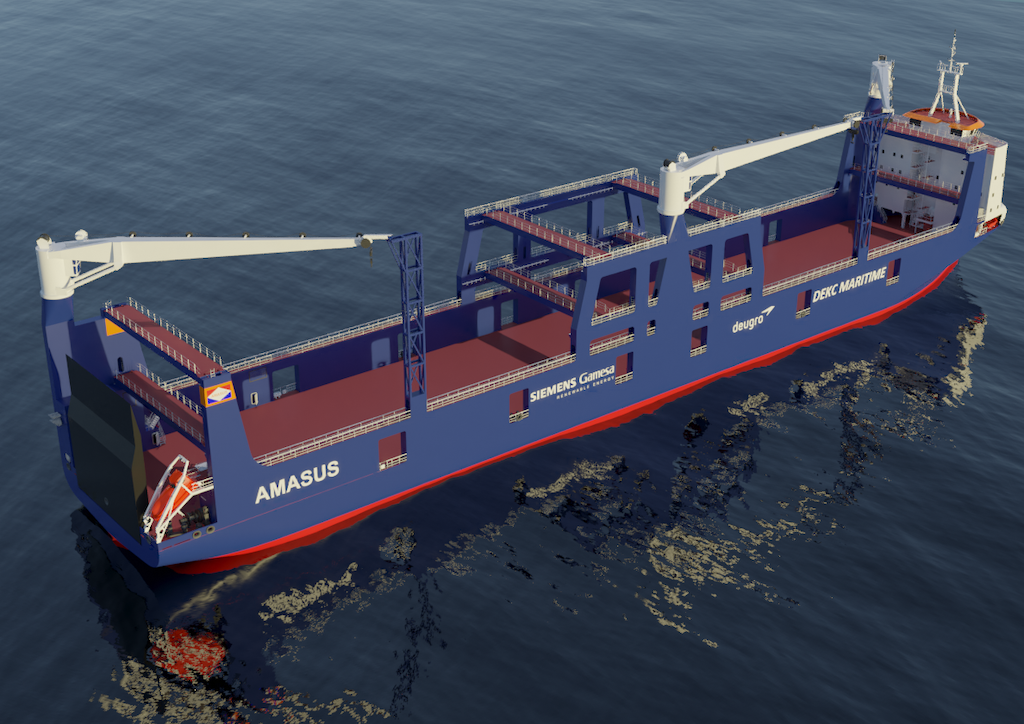 Hans Henrik Groen, Branch Manager and Managing Director of deugro Danmark, emphasizes the importance of reducing the carbon footprint in the offshore wind industry's future, highlighting the commitment to staying at the forefront of industry requirements. Thomas Mortensen, Head of Offshore Project Transportation at Siemens Gamesa, expresses confidence in the vessels' capabilities and the partnership's expansion, ensuring a solid foundation to meet future challenges and execute projects seamlessly.
Christian Johansen, Global Commodity Manager for Ports & Transportation in Siemens Gamesa's offshore business unit, highlights the significant number of wind turbines that will be installed globally and the necessity of securing safe, timely, and cost-effective project execution. Amasus Offshore B.V. expresses delight and pride in being chosen as the preferred supplier, emphasizing the trilateral collaboration's success and its contribution to a sustainable future.
The construction of Rotra Futura and Rotra Horizon will take place at Jiangsu Zhenjiang Shipyard in China, with delivery scheduled for the spring and summer of 2025.