Ainscough Crane Hire, a crane hire company, recently collaborated with Collett & Sons, a heavy transport company, to transport a crucial piece of equipment to the Saltend Power Station in Hull.
The Saltend Power Station is a Combined Cycle Gas Turbine (CCGT) and Combined Heat & Power (CHP) power plant situated on the Humber Estuary. The facility has a power output capacity of 1200 MW and provides electricity to the UK market as well as power and steam to the adjacent Saltend Chemicals Park.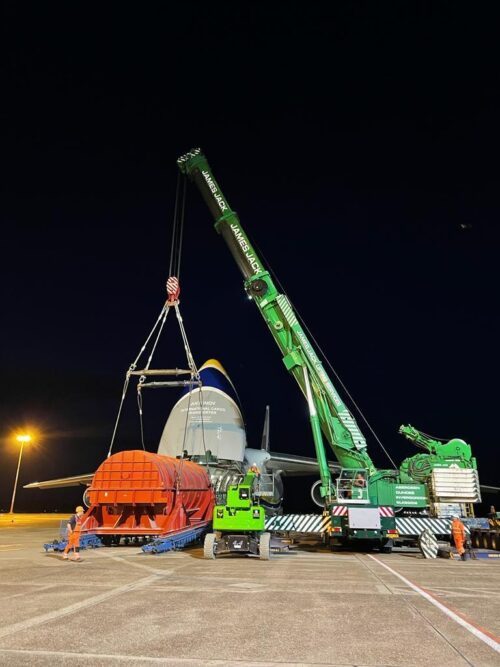 Collett & Sons appointed Ainscough Crane Hire to lift a 100-ton gas turbine rotor from a cargo plane and place it on a 10-axle trailer for transportation to the power plant. The rotor arrived at Doncaster Sheffield Airport aboard an Antonov 124, the world's second-heaviest gross weight production cargo airplane and heaviest operating cargo aircraft. The airport's 3000-meter runway, one of the longest and widest in the UK, was used to land the heavy transport aircraft and offload the cargo.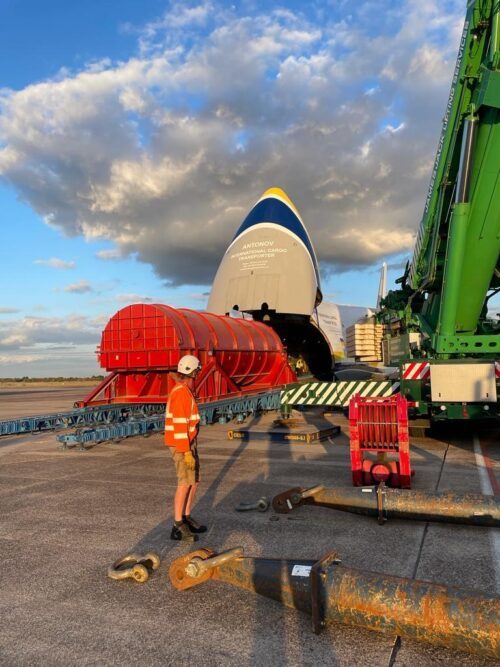 On the airport tarmac, the Collett Heavy Transport and Heavy Lift Teams were present with Ainscough Crane Hire's 500-ton Leibherr LTM 1500-8.1 mobile crane, an escort vehicle, 10-axle flat top trailer, and ballasted Mercedes-Benz 8×4 Arocs SLT. Collett's Heavy Lift Engineers used Ainscough's crane to remove the cargo from the Antonov Aircraft's skid track before moving it to Saltend.
Igor Scalas, Ainscough Crane Hire's Heavy Cranes Project Engineer, expressed delight at the opportunity to collaborate with Collett & Sons to transport this essential piece of machinery to its new home at the Saltend Power Station. Scalas said that thanks to close collaboration, they could ensure the successful completion of this complex operation according to schedule.