Sarens recently took delivery of the first unit of the new Liebherr LR 12500-1.0 crawler crane at the Port of Rostock on 1 April. Sophie Albrecht, a member of the Board of Liebherr International AG, handed over the symbolic key to Marc Sarens, Director & Member of the Board at Sarens. The Belgian company plans to primarily use the 2,500-tonne crawler crane in the renewable energy sector, particularly for handling offshore wind turbines.
Sarens chose the new Liebherr LR 12500-1.0 for its high capacity, which is especially important in the renewable energy sector where the individual weights of components are increasing. Carl Sarens, Director Technical Solutions, Projects & Engineering, stated that "the capacity of the LR 12500-1.0 is enormous," and that the initial assembly of the new crane was successful.
During the symbolic handover of the keys to the LR 12500-1.0, Sophie Albrecht shared an interesting detail about the company's founder, Hans Liebherr. She mentioned that the day of the handover would have been his 108th birthday.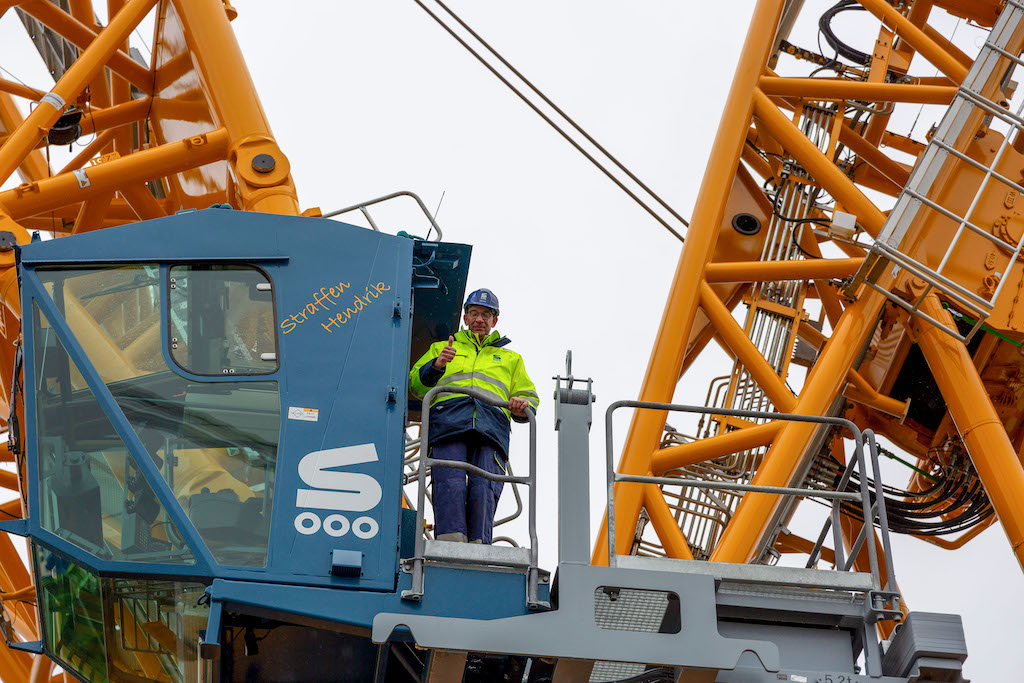 Sarens named the new crawler crane "Straffen Hendrik," after a long-time employee, Hendrik Sanders. Sanders has been with the company for more than 30 years and is known for his strength, goodness, and robustness as a project planner for large cranes.
The LR 12500-1.0 will be put to work in the port of Rostock, where it will lift 50 monopiles with a diameter of up to nine metres, a length of up to 90 metres, and a weight of more than 1,400 tonnes into the water in tandem lifts with a Liebherr LR 1800-1.0 over a period of about eight weeks. Together, the two cranes have a gross load capacity of up to 1,750 tonnes. The monopiles, which are the foundations for offshore wind turbines, will then be pulled afloat to a special ship that will transport them to the Baltic Eagle offshore wind farm, which is currently under construction about 30 kilometres north of the island of Rügen.