Liebherr's seven flat-top cranes are playing a crucial role in the construction of the Skypark Business Center at Luxembourg Airport. The building, one of the largest timber structures in Europe, is a prestigious and challenging project that brings together architecture, functionality, and sustainability. The cranes, rented from Skyliners S.à R.L. rental fleet, are moving building materials just a few meters from the airport's apron to the construction site.
The machines in use are Liebherr's 172 EC-B 8, two 202 EC-B 10, one 285 EC-B 12, and three 250 EC-B 12 cranes, with jib lengths of 40, 45, 50, and 55 meters, respectively. All of them have aircraft warning paintwork and a maximum lifting capacity of up to twelve tonnes, depending on the model. The highest tower cranes on the construction site are a 250 EC-B 12 and a 285 EC-B 12, with a hook height of 69 meters. The lowest one, another 250 EC-B 12, has a hook height of 50.4 meters.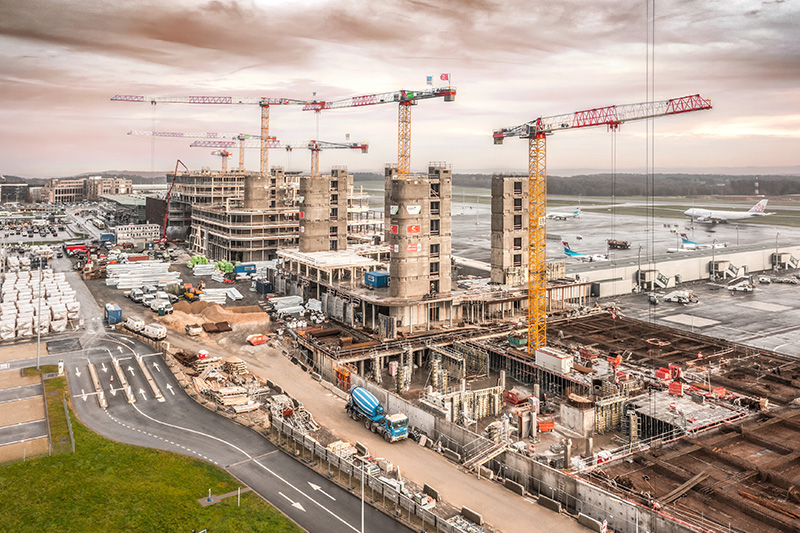 Thanks to their flexible adaptation to site conditions, the jib and tower elements in the EC-B series allow several cranes to work together in tight spaces without any issues. The cranes are equipped with assistance systems, such as the Micromove fine positioning mode, the Load-Plus short-term load increase function, and the ABB operating range limitation system, which increase handling performance, reliability, and safety.
Since the first crane was erected in December 2020, the Liebherr machines have been efficiently supporting structural work. The Skypark Business Center will offer approximately 100,000 square meters of space for restaurants, retail, fitness facilities, hotels, offices, and a kindergarten upon its completion in late 2023/early 2024. It is the first milestone for Airport City, a large-scale development project around Luxembourg Airport.
The new building is a Nearly Zero Energy Building, incorporating wooden construction, photovoltaic systems, rainwater collection, double facades, green roofs and terraces, and natural light to reduce its carbon footprint, energy consumption, and operating costs. Sustainability is already factored into the construction phase, as gravel from excavation is being used for the concrete walls and slabs of the parking spaces to reduce the number of trucks and cut down emissions.
The flat-top cranes will continue to work on the site until the end of 2023. All the cranes are from the rental fleet belonging to Skyliners, which has been specializing in the rental and sale of tower cranes for over 25 years. The company offers its customers a fleet of close to 100 tower and fast erecting cranes, ranging from 26 to 630 metre-tonnes, along with experienced service technicians for assembly, dismantling, and maintenance of the Liebherr machines.