Kalmar has secured a significant contract with PSA Italy to supply eight Kalmar Eco reachstackers for use at their Genova Pra' and SECH container terminals. The order was recorded in Cargotec's Q1 2023 order intake, and the machines are due to be delivered during Q2 2023.
PSA Italy, which is a subsidiary of PSA International, manages two container terminals in the Port of Genoa, namely PSA Genova Pra' and PSA SECH, as well as one in the Port of Venice. These facilities handle approximately two million containers annually and employ roughly 1,000 individuals.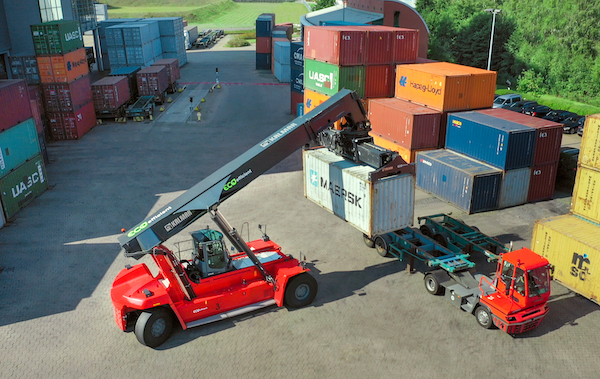 The reachstackers delivered to PSA Italy will include a fuel-saving warranty, which ensures financial stability by agreeing on a fixed level of fuel usage based on cargo handling drive cycles. They will also come with Kalmar Insight, a performance management tool that translates data into practical, impactful insights, as well as various additional safety features such as a fire suppression system.
The Kalmar Eco reachstacker employs a much smaller engine than traditional solutions, reducing fuel consumption and emissions while maintaining productivity. It also provides a better overall driving experience, with smoother acceleration and less cabin noise.
Roberto Ferrari, CEO of PSA Italy, is excited about the new reachstackers: "We are constantly optimising our equipment fleet to improve fuel efficiency and reduce carbon emissions as part of our Group's ambitious sustainability targets, and to keep the greenhouse gas reduction commitments that we have made to the City of Genoa and its institutions. The new reachstackers are another step in the right direction."