The Kiel Canal Waterways and Shipping Authority recently implemented a new procedure for moving ferries ashore for inspection purposes at the Yard in Rendsburg. Previously, the vessels, weighing up to 130 t, were moved onto a shiplift consisting of a lower and upper cradle, which was winched ashore and along the rails to the shipbuilding hall. However, due to the introduction of heavier hybrid ferries weighing around 180 t, and an economic assessment for upcoming refurbishment measures, it was decided that a wheel-based transportation system on a level surface would be preferable to replacing the rails.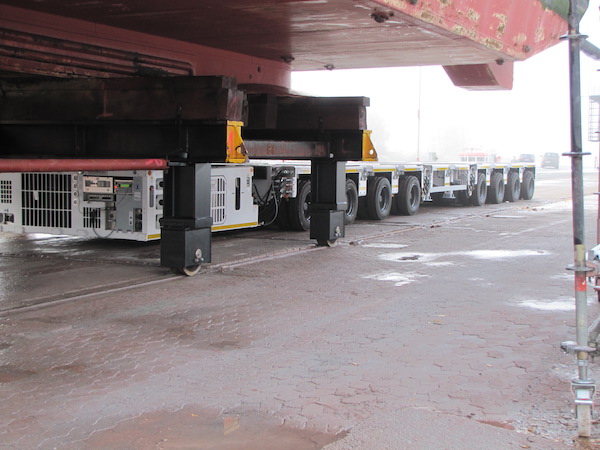 To achieve this, the Waterways and Shipping Authority chose a heavy-duty self-propelled 8-axle module manufactured by Goldhofer. This transporter features electronic multiway steering, making it possible to maneuver the vessel in the confined space of the shipyard and set it down with pinpoint accuracy. The only adjustment required to the ship was a modification of the upper cradle of the shiplift to permit the self-propelled module to be positioned beneath it so as to pick up the load with the help of the hydraulic axle compensation.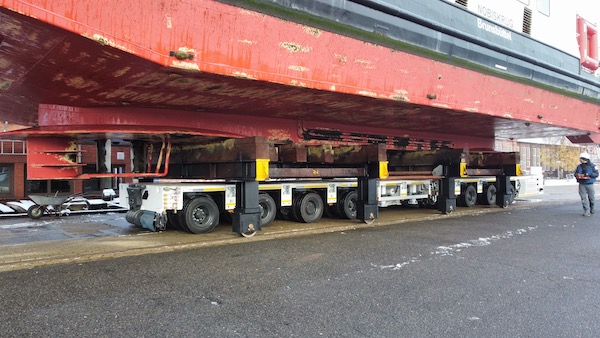 The first vessel to be handled using this new system was the Nobiskrug drop-ramp inland ferry, which can carry up to 45 tons and weighs around 130 t. The ferry was brought to the Rendsburg shipyard for maintenance and a basic overhaul following a regular inspection. Using the Goldhofer PST/SL-E self-propelled transporter as a tow tractor, the ferry was positioned on the shiplift and brought ashore on the slipway. The self-propelled transporter was then positioned under two upper cradles and used its hydraulic axle stroke to pick up the ferry and move it to the shipbuilding hall for inspection and maintenance work.