DP World is investing £12m in two new Rail Mounted Gantry (RMG) cranes at London Gateway, in order to meet the rapidly increasing demand for rail connections from customers at the logistics hub. 
This will increase the hub's capacity by a third when a fourth berth opens next year. The cranes, which are designed for quick, safe and automated handling of containers, will be operational in time for the opening of the new berth and increase rail capacity at London Gateway by 50%.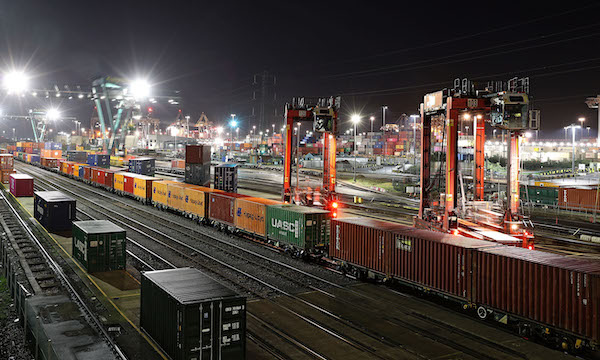 Andrew Bowen, Port Operations Director at London Gateway, said: "We are delighted to be making a further investment in our rail capability and rail capacity with two new RMG cranes which will arrive in the same year that we open a new fourth berth. After the disruption of recent years, shipping lines and cargo owners are looking for capacity, reliability and growth opportunities and DP World will deliver on all three fronts."
"This is the latest step forward in our journey to becoming an end-to-end logistics provider. In November we launched a new intermodal train service connecting our container terminals at London Gateway and Southampton which will enable customers to switch volumes quickly and easily between the two UK locations."
"The DP World-operated round service carries cargo including fresh fruit, beverages and consumer goods in less than five hours, taking up to 120 lorries a week off the roads. We estimate that the emphasis on rail across both ports takes a total of 300,000 trucks off UK roads each year and we are committed to playing our part in helping the UK meet its Net Zero 2050 policy."
DP World, a company that operates ports, terminals and logistics businesses on six continents, manages the UK's most advanced logistics hubs at London Gateway and Southampton. These hubs are two deep-water ports with access to freight rail terminals and a rapidly expanding logistics park near the capital. Together, they handled a record volume of cargo during the first half of last year, with a combined total of 1.93 million TEU.
DP World has now begun construction on London Gateway's new £350 million fourth berth, which will increase capacity by a third when it opens in 2024. The construction project is supporting 1,000 jobs, and when completed in four years, the port-centric logistics park will employ an additional 12,000 people. The company has also allocated an additional £1 billion for investment in the UK over the next 10 years.