conAgro, the official Raimondi agent for Cyprus, has set up two MRT111 flat-top cranes in the city of Pafos to assist in the construction of a new university campus. This campus will be the first branch of the American University of Beirut (AUB) to be located outside of the Middle East and North Africa (MENA) region.
"We are thrilled to participate in this higher education project with two Raimondi flat-tops, and further continued our long-lasting partnership with AtlasPantou – MAN JV Construction Group. The two machines were previously sold and put to work on another of the contractor's projects, Limassol Del Mar, a much-anticipated luxury beachfront development," explained Petros Rouvas, Chief Executive Officer, conAgro.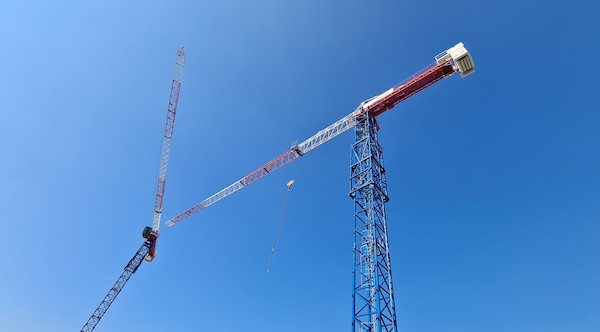 The MRT111 cranes were disassembled from the job site in Q3 of 2022 and were quickly reassembled by the conAgro operational team afterwards. The installation process was completed quickly and the cranes are expected to be used for about 12 months.
"The MRT111 is a strong model to have in any fleet as it performs well in terms of maximum load and hoist speeds, as well as its tower height versatility. Additionally, in line with the market trends of the area, many jobsites require cranes with a maximum lifting capacity ranging between 8t and 10t," Rouvas continued.
The first MRT111 has a height of 30 meters under the hook and a jib length of 48 meters, while the second one is freestanding at 36 meters with a jib length of 50 meters, and a maximum tip load of 2.3 tons. Both cranes are equipped with a 30 kW hoist and have a drum capacity of 450 meters and can lift up to a speed of 100 meters per minute.
The new university campus is expected to be finished by the fall of 2023 and will feature administrative buildings, classrooms on three levels, and an auditorium. The goal of the AUB's new campus in Cyprus is to reach a wider student base while providing opportunities for student exchanges and collaborative research projects between Lebanon and Cyprus.