Akem Group deployed deployed four Raimondi MRT159s and two MRT144s for the construction of a massive mix-used development in one of Iraqi main cities. The MRT159s, operating onsite with a maximum lifting capacity of 8t, have all been installed with jib lengths of 65meters and tower heights ranging between 45m and 124m. The two tallest flattops, standing at 112.4m and 124m, have been anchored to the building, while the remaining cranes are freestanding. 
"The MRT159 remains one of the best-selling cranes in the region thanks to its lighter components and its excellent tip load of 1.8kg at maximum radius. Additionally, having the machines arrive onsite with all the main elements already preassembled and ropes passed represents an added value for jobsites of this nature as they reduce installation procedures times," stated Gokhan Ibrahimiye, Director General, Akem Group.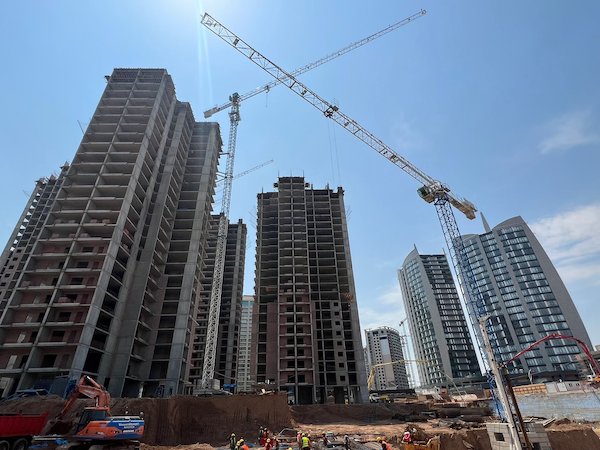 The two MRT144s-8t, currently standing at 36m and 55.3m with jib length of 43m and 51m respectively, are at work for the construction of Empire Square, area located in the center of the new residential development. The six flattops, lifting all types of construction materials, will remain onsite for 18 additional months.
"Due to the site location and unique dimensions, the main challenge was site planning. From crane delivery, to positioning and installation, the technical department of Akem had to strategically study each stage of the cycle in order to prevent any jobsite time loss and subsequent increase of costs," Gokhan concluded.