Osprey Group has recently transported a new low pressure rotor, weighing 257-tonnes, for the world's most powerful steam turbine at Hinkley Point C, in Somerset. The new low-pressure rotor forms a critical part of the electrical power production equipment in the turbine hall. It measures 20-metres long, weighs in at a hefty 257 tonnes and houses the largest 'last stage' blades ever made at 1.9 metres.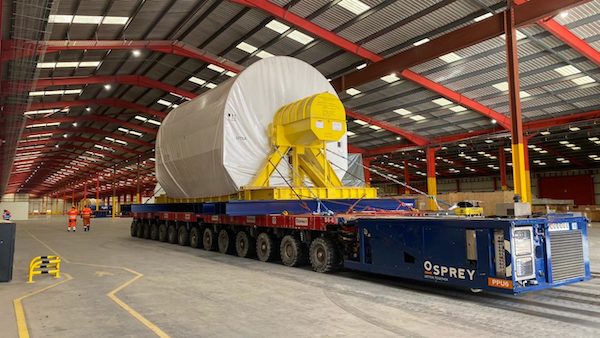 As the heaviest Abnormal Indivisible Load (AIL) being delivered into the UK for HPC so far, the project-planning for the rotor's transport started over a year ago. Working closely with the key project teams at EDF(UK) and GE Power, enabled Osprey to build efficiencies into the journey from the outset. The roots journey started in Belfort, France, where it had been manufactured and tested by the GE team. From there, it was moved by heavy-lift truck to Neuf-Brisach in the Alsace region of France, and then loaded onto a barge and transported down the Rhine to Rotterdam where it was stored at GE's consolidation warehouse. A coaster vessel already familiar to the project (MV Aasfjord) was selected by Osprey to transport the LP Rotor from Rotterdam to the UK.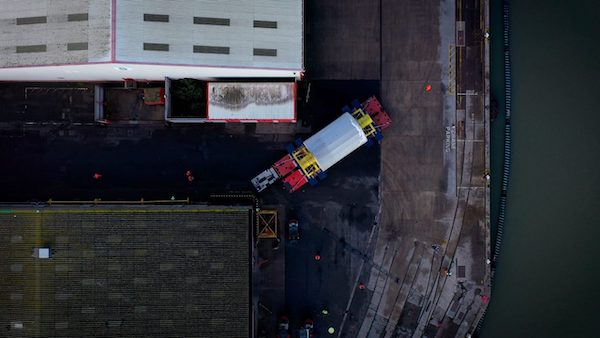 On arrival at Avonmouth HPC Terminal, Osprey used their LG1550 SLDB crane to lift all components from MV Aasfjord onto an awaiting 4 file 14 Self Propelled Modular Transporter (SPMT). Once offloaded, all the components were then delivered safely into the bespoke storage facility – the offloading and transportation itself took under 10 hours.
"It was uneventful, which is just how we like it," said Daniel Massey, Osprey's Senior Project Manager. "Critical assets like this need high levels of precision at every stage of the planning process. By working so closely with the core project teams, we were able to consolidate all the equipment coming in to Avonmouth at this point in the project. It's just one of the ways we deliver value for our clients: we have the cross-sector experience to scrutinise those mammoth project plans and identify opportunities to add value. In this case, it's good to know we're not only delivering the components as needed, but as a company, we're contributing to the low carbon transition in the most hands-on way – this consolidation reduced both the amount of carbon emissions connected to the supply chain and the number of actual journeys involved."