PT LV Logistics has set a new domestic record for the Indonesian heavy haul industry with the delivery of RFCC plant components to the Balikpapan refinery in East Kalimantan using transportation solutions provided by Goldhofer.
The Indonesian government's refinery development master plan has a budget of around US$ 17 billion. The money is to be spent on upgrading and modernizing the five largest oil refineries in the country in line with the latest environmental standards. One of them is the Balikpapan Refinery in East Kalimantan on Borneo. A main item in the refinery upgrade there involved the supply of plant components and equipment for residual fluid catalytic crackers (RFCC), which employ catalytic cracking to process crude oil to the highest environmental standards into high-quality oil for the production of gasoline and diesel fuels. So as to be able to handle these processes at the refinery in Balikpapan, the state-owned Indonesian oil company PT Pertamina ordered the necessary components for the plant from the Korean company Hyundai Heavy Industries. They were loaded onto the Korean Hanjin Leader heavy lift vessel and shipped to the port of Balikpapan. From there, they were taken over by PT LV Logistics of Indonesia and transported overland to the refinery over a distance of three kilometers.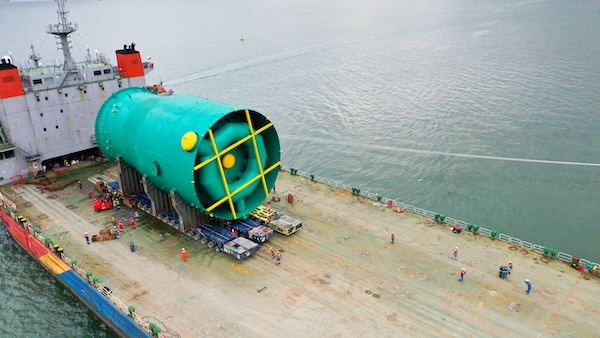 The contract comprised plant components with a total volume in excess of 24,500 m³. They included a disengager/stripper weighing 1,031 tons and measuring 37.8 x 12.3 x 13.8 m, and two regenerators weighing 1,357 tons and 1,003 tons, and measuring 28.9 x 17 x 16.1 m and 33.6 x 14.1 x 15.2 m respectively. Transportation of the first regenerator alone set a new record as the heaviest and most voluminous load transported in Indonesia to date. On top of that, the gigantic transport with a total weight of 1,597 tons, an overall length of 34 m and a width of over 11 m – had to be coaxed around several 90-degree bends within the refinery.
To handle the loads, PT LV Logistics deployed three Goldhofer PST/SL self-propelled modules combined with THP/SL modules with 20 axle lines each. The mechanically steered PST/SL self-propelled transporters are designed specially for such heavy-duty work, with axle loads of up to 45 tons and a tractive driving force of up to 160 kN per axle line. With a suspension stroke of 600 mm, the heavy-duty combination can be driven completely under the load and pick it up hydraulically. The entire project including transportation of the regenerators weighing up to 1,357 t each was completed within just five days