MAX Trailer's MAX100 low loader with self-steering axle is now also available with two pairs of wheel recesses and telescopic loading platform. The deep wheel recesses enable the height-optimised transport of wheel loaders and dumpers. The front wheel recess can be variably adjusted by means of the extension. Insert elements are used to adapt the resulting trough to the machine to be loaded and its wheelbase. The weight-optimised design of the semi low loader provides the user with a considerable payload gain for his tasks. 
In order to make the loading and offloading of the machines as safe as possible, climbing strips ensure maximum grip. The entry angle is designed so that wheeled vehicles with a low overhang angle can safely find their position. The wheel recess dimensions make it possible to accommodate any type of wheel loader with different tyre diameters, axle spacings and weights. Product manager Mario Faymonville explains: "The insertable wheel recess covers quickly and easily create a straight loading area. This gives the vehicle additional versatility to pick up tracked vehicles, containers or other goods. The extendable outriggers in the loading area are also helpful. And the vehicle is optionally available with a 300 mm deep excavator trough."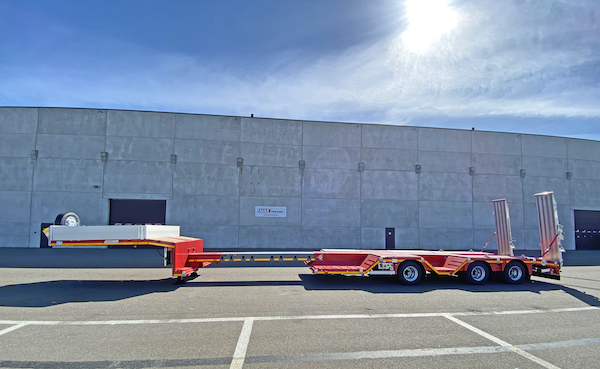 MAX Trailer also offers a choice between steel and aluminium ramps. The flat ramp angle enables the user to accommodate vehicles with little ground clearance. Numerous lashing points, edge profile lashing holes and a painted anti-slip cover provide the necessary load safety.