Bylor JV, a partnership of Bouygues Travaux Publics and Laing O'Rourke, ordered more than 80 Haulotte machines to take part in the construction of the buildings that will house the two EPR (European Pressurised Reactor) nuclear reactors at Hinkley Point C (HPC).
Situated on the Somerset Coast, HPC is the first nuclear power station to be built in the United Kingdom for a generation. Bylor JV, the largest Tier 1 supplier on the site, purchased 83 Haulotte mobile elevating platforms to carry out the main civil engineering and construction works. In total, Haulotte UK will have to deliver 23 Compact 8, 9 Optimum 8 electric scissor lifts, 16 Star 10 AC and 22 Star 6 AC vertical masts, 7 HA16 RTJ PRO and 6 HA12 CJ articulating booms.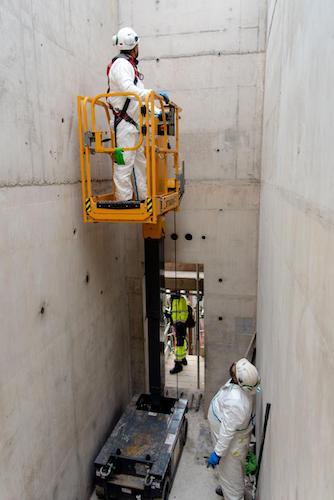 All equipment ordered will be supplied from Haulotte plants in Reims (France) and Arges (Romania). The equipment was prepared prior to despatch at the UK facility in Wolverhampton, in a collaboration similar to that of the Bylor JV partnership.
This is the second order from Bylor, the first for 22 machines took place in July 2019. The Hinkley Point C project will take a number of years. When completed, HPC will then power around 6 million homes with electricity.