Linde Engineering in Tacherting, Bavaria, has contracted Baumann heavy haulage company to transport two gigantic heat exchangers, one measuring an impressive 33.65 m in length, 6.05 m in width and 6.14 m in height and the other 29.5 m in length, 6.7 m in width and 6.5 m in height, to the Danube port at Passau. The Baumann heavy haulage professionals had previously acquired new THP/SL-L heavy duty modules offer a 26-ton axle load per axle line at a speed of 20 km/h., plus 200-ton turntables from Goldhofer especially for such colossal loads.
"For years we have been using Goldhofer heavy-duty modules, and they have now been replaced step by step with Goldhofer's new THP/SL-L series to meet today's increasing demands in terms of axle loads," says Baumann's fleet manager Matthias Kirschner and he adds: "The new lightweight modules offer even more impressive performance. They are extremely robust thanks to the reinforced frame design and proven pendular axle technology with ball bearing race rings."
For safety reasons, the two coil-wound heat exchangers, weighing 274 and 278 tons respectively, had to be transported during the day. Due to the enormous size of the two vehicle combinations, the convoy had to travel mainly on secondary roads. The combination with the self-steering trailer used for the 274-ton heat exchanger comprised 18 +10 THP/SL-L axle lines with an overall length of 69 m and a gross combination weight of 433 tons. For the 278-ton heat exchanger, a self-steering trailer with 16 THP/ST axles lines was combined with 14 THP/SL-L axle lines for an overall length of 72 m and a gross combination weight of 450 tons.
In addition to the police escort, a route safety team with several vehicles was deployed throughout the journey to remove and subsequently replace obstacles such as road signs and traffic lights. All road junctions were secured, and steel plates were laid out to spread the load where necessary. The Baumann team were kept on their toes handling the large numbers of traffic islands and 90° bends, with the tractor units requiring frequent recoupling to negotiate the tight bends in particular. The team was also kept busy on the many sections where road crossfall was excessive, with an operator stationed on every vehicle to take action as required. "In combination with our new tilt indicator with warning signal, Goldhofer's new 200-ton turntables were a great help in this respect. As a result we were always in the picture and could take action wherever necessary," explains Reinhard Treutler, Baumann's project manager.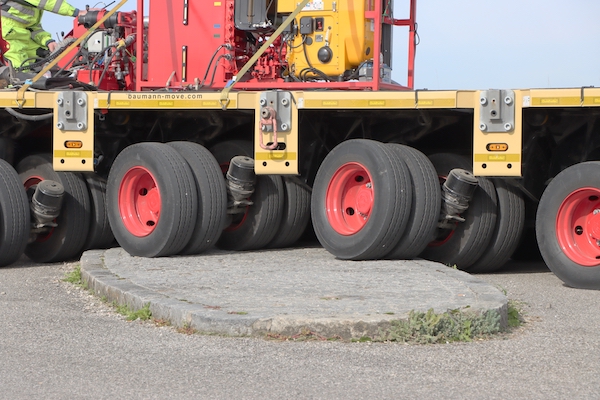 The Baumann team handled the operation with a total of six tractor units, which were used in push-pull combinations on gradients of up to 12%. That is how the convoy of the two heavy-duty combinations – the one with a length of 72 m, a width of 6.7 m and a height of 8 m and the other with a length of 69 m, a width of 6.1 m and a height of 7.6 m – wound its way through the mountainous landscape of Upper Bavaria and reached the port in Passau on the 4th day right on schedule. From Passau, the heat exchangers are being shipped to Canada, where they are needed for a natural gas liquefaction plant.