The German heavy-load logistics company Schmidbauer has opted for Scheuerle SPMTs to transport a 1,500 tonne and 130 m long bridge via one of Germany's busiest motorways. A total of 56 axle lines were required in order to distribute the load of the bridge, support beams and sub-structure as well as SPMT modules totalling 2,000 tonnes over the 224 wheels so that the load on the ground was kept to an absolute minimum. In order to guarantee safe transportation of the bridge, Schmidbauer formed four individual transport platforms using the individual SPMT modules, each with 14 axle lines which were then driven using in a loose coupling mode formation. Four power packs from Scheuerle with a total output of around 2,000 hp provided the drive.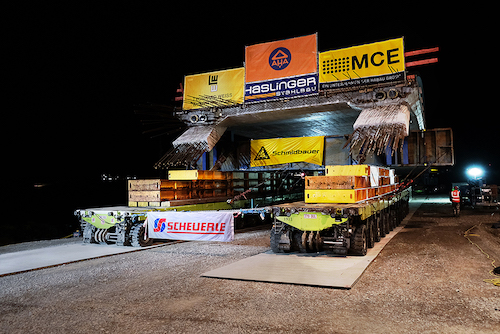 Schmidbauer had to realise the transfer from the pre-assembly site in a field near the A8 motorway to the point of installation where it had to be positioned and set down precisely on four piers. Although the distance from the pre-assembly area to the jobsite was only around 150 metres, the construction management team had calculated that a two-hour drive was required.
"The biggest challenge on route was to drive absolutely synchronously with the four SPMT transport platforms in a loose coupling mode. In particular, we had to make sure that the transport did not move into an inclined position due to the difference in height between the two lanes," explained Stefan Schmidbauer, Technical Manager of the Large Crane/Heavy Lifting Division and Managing Director of the Schmidbauer Group.
In addition, service technician Tobias Vesely, a Scheuerle expert, was on hand to assist the Schmidbauer team. "This is not the norm but nothing untoward was allowed to happen during this transport. Traffic flow on the A8 had to recommence on time. If there had been a technical problem, I could have helped immediately", he said.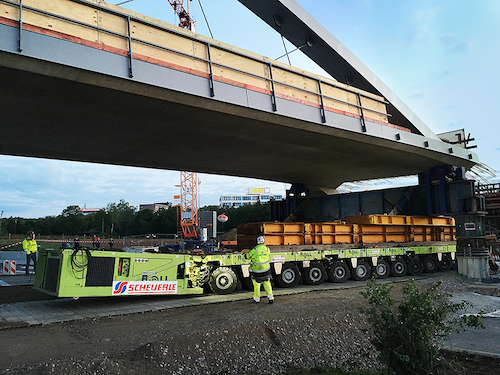 After the arrival to the final destination the bridge had to be set down on the supporting piers. "We had a maximum of two centimetres of play and thus had to work with corresponding precision," reported Schmidbauer. However, the multi-directional steering and the precisely metered high axle compensation of the SPMT transporters allowed the vehicle operators from Schmidbauer to position the bridge on the piers with pinpoint accuracy.
"The outstanding technical quality of the SPMTs contributed a great deal to the success of the operation. Everything worked perfectly: the coordination of the transport, the fine running sequence of the axles, the control of the transport. We will definitely be ordering additional SPMT axle lines," added Schmidbauer.