On November 15, 2023, the President of Ghana, H.E. Nana Akufo Addo, and AGL Chairman, Philippe Labonne, officially inaugurated phase 2 of the Tema port expansion project. Led by Meridian Port Services (MPS), a joint venture between AGL, APM Terminals, and the Ghana Ports Authority (GPHA), the USD 150 million project includes the commissioning of 3 STS gantries and 12 e-RTG gantries.
The expansion involves constructing a 270,000 square meters storage area and installing new equipment, boosting the terminal's capacity from 100 to 127 hectares. Executed by the Eiffage Genie Civil Marine consortium and Se Simone Ltd, the project aims to extend the quay length to 1.4 km with four berths, accommodating large-capacity vessels.
Scheduled for completion in September 2025, phase 2 will enhance handling capacity from 2.5 to 3.7 million TEUs, supporting import and export operations. The STS and e-RTG gantries, commissioned during the launch, aim to improve efficiency in loading and unloading operations, strengthening the overall performance of the terminal.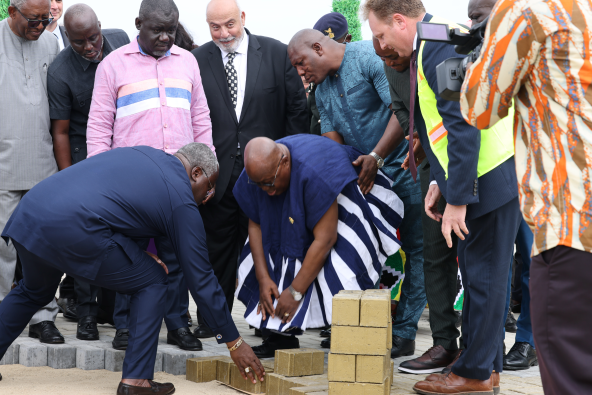 Mohamed Samara, Managing Director of MPS, emphasized the commitment to Ghana's economic growth, stating, "These new port cranes are proof of our commitment to Ghana's economic growth. This state-of-the-art equipment will reinforce the position of the Port of Tema as a leading maritime hub in sub-Saharan Africa."
Hon. Kwaku Ofori Asiamah, Ghana's Minister of Transport, highlighted the positive impact on the country's development strategy, connectivity, and industrialization prospects. He stated, "The Port of Tema is thus helping to boost trade in the region, becoming a key driver of employment for young Ghanaians and a catalyst for growth in our economy."
MPS, aligning with Ghana's ambitions as a pioneer of the African Continental Free Trade Area (AfCFTA), has received the "Green Terminal" label from Bureau Veritas. The modern port infrastructure equipped with cutting-edge technology positions Ghana to connect with Africa and the rest of the world.