In 2018, Liebherr Maritime Cranes and ISO Limited joined forces to enhance innovation in New Zealand's forestry sector. This long-standing partnership has resulted in a remarkable project that has been hailed as a "lighthouse project" and is currently being examined by other locations seeking to improve their own operations. MHCs (mobile harbour cranes) and SMAG grabs have been in operation since 2020, following a meticulous planning process.
Liebherr Maritime Cranes collaborated with ISO Limited, a Qube company, and SMAG to develop a top-of-the-line timber handling solution for the ports of Tauranga and Gisborne to support the sizable lumber industry in New Zealand. This project has reached a significant milestone in the forestry industry and highlights Liebherr's commitment to delivering innovative solutions that increase efficiency and safety in maritime operations.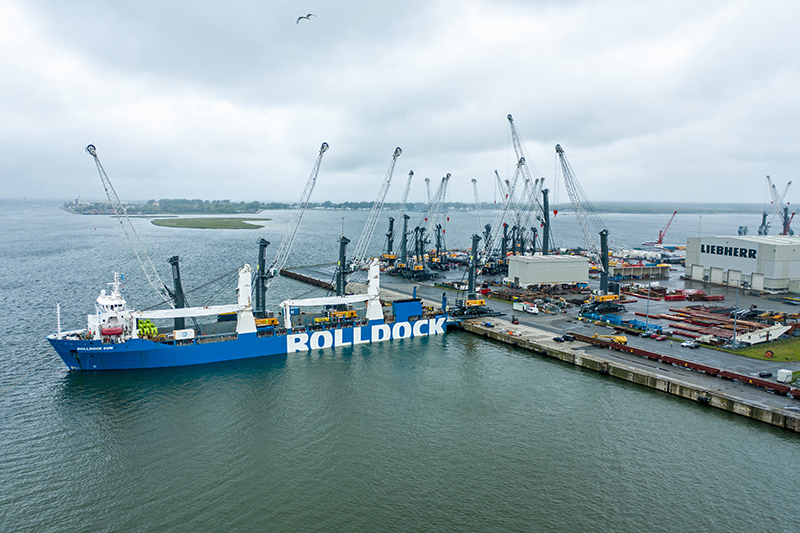 The project began in mid-2018 with customer meetings in Tauranga and Gisborne. The first test of the SMAG electric-hydraulic grapples was carried out in September 2019 during a customer meeting at the Liebherr Rostock manufacturing plant, and a contract was signed for four LHM 550 and six SMAG timber grabs. In addition, a crane simulator was purchased to help train crane operators in Tauranga. By January 2020, a successful second grab test was completed with a new bucket design, and production of the six grabs was released. The crane simulator was delivered and installed at the customer's site by Q1 2020. In mid-July 2020, the four fully assembled LHM 550 mobile harbour cranes and six timber grabs were loaded onto the "Rolldock Sun" ship and arrived in Tauranga in early September 2020. In November 2021, a further contract was signed for two more LHM 550 and three more SMAG timber grabs, which arrived at Eastland Port – Gisborne.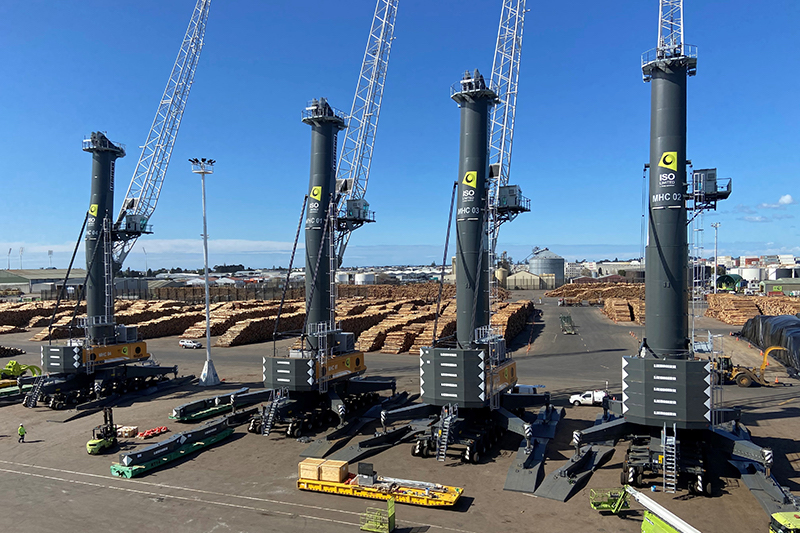 According to Paul Cameron, Director and CEO at ISO Limited, "The new MHCs have significantly changed the way logs are loaded in New Zealand and most importantly are a significant step-change to our current practices, improving both safety and productivity."
This project has opened up great potential for further shipments with ISO, and other companies have also expressed interest. The concept of more efficient and safer ways of handling timber is becoming increasingly appealing to many. Forestry is a vital industry in New Zealand, contributing to an annual export revenue of around $6.8 billion, 1.6% of New Zealand's GDP, and employing approximately 35,000 people in production, processing, and commercialisation. Thus, innovations in this area are of great importance to many individuals, and Liebherr and its partners will continue to work closely together to explore forward-thinking options that support safe and efficient operations in the timber industry.