The success of Germany's energy transition and the shift towards renewable energy depends heavily on the transport of wind power from coastal regions to the south of the country. To achieve this goal, new, high-performance power lines are essential. The largest project currently underway is the "Wahle-Mecklar" extra-high voltage line through Lower Saxony and Hesse, which is being realized with Liebherr mobile cranes from Albert Regel GmbH and other companies.
The "Wahle-Mecklar" project involves the construction of 555 electricity pylons over a distance of 230 kilometers, with only a small part of the route bridged with underground cables. This new power line is scheduled for completion in 2024, after four years of construction. Several Liebherr mobile cranes, including Regel's LTM 1230-5.1 and LTM 1070-4.2, are being used to erect the pylons, which are up to 90 meters high.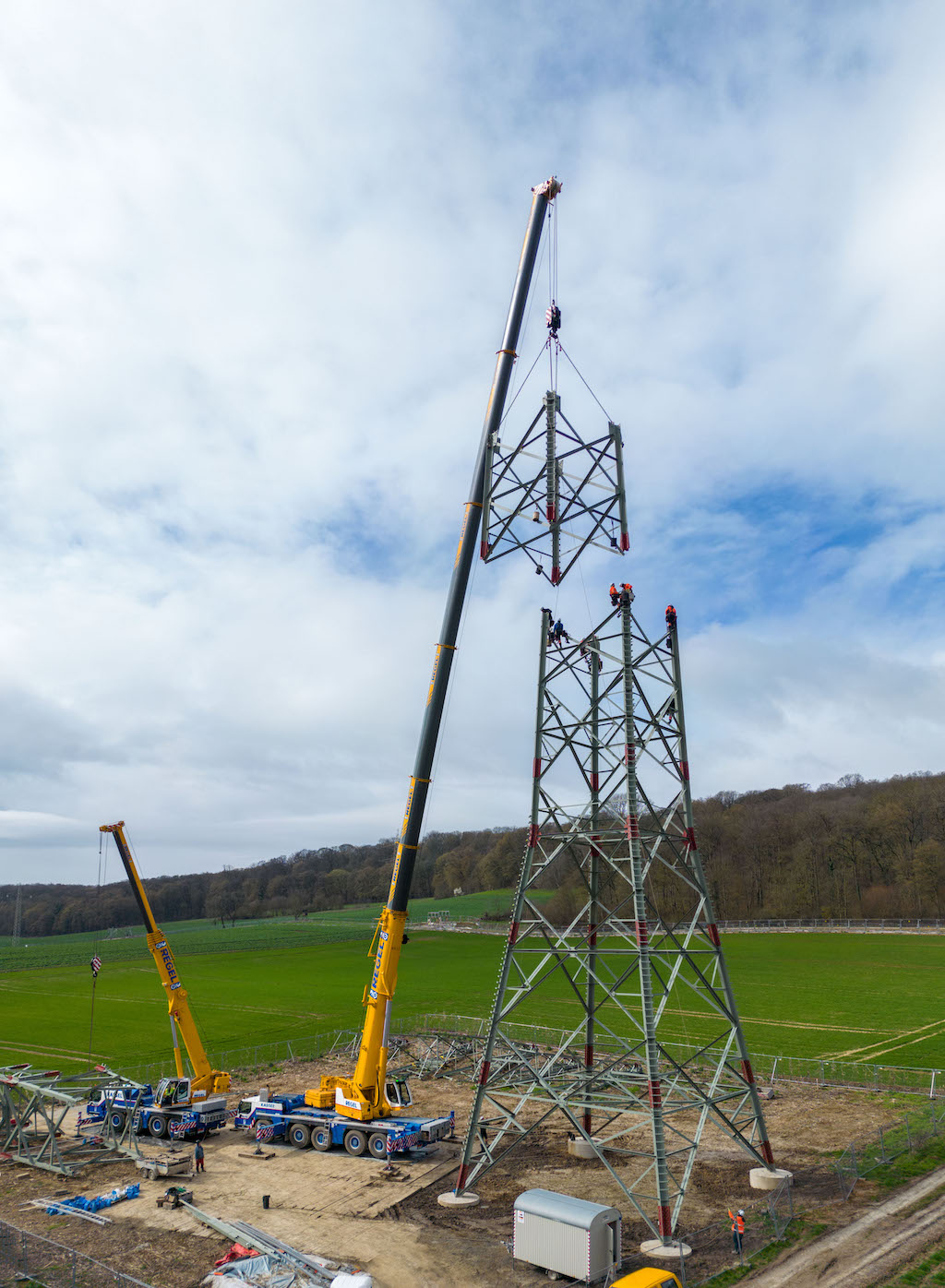 According to Daniel Stawizki, a dispatcher at Regel, the LTM 1230-5.1 is the crane of choice for mast construction, with its 75-meter telescopic boom. It can manage almost all of these jobs without the aid of a jib, except for the largest of the pylons, for which a 32-meter fixed jib is used. For these larger pylons, Regel has also used their 300-tonne LTM.
Regel's LTM 1070-4.2 is used to handle the individual lattice tower elements on the ground and to help assemble the components with the larger mobile crane. This compact 70-tonne mobile crane can carry most of its ballast on the road and is equipped with active and speed-dependent rear-axle steering, making it ideal for working in difficult terrain and reaching work sites quickly.
Regel has been providing cranes for the construction sites of the grid operator Tennet for the past three years, and according to Stawizki, they have already erected well over a hundred of the electricity pylons. If everything works out, the completed lattice tower will be up within a day in the evening. Regel has also used their LTM 1200-5.1 and LTM 1090-4.2 as a team on the construction sites along the route.
At their headquarters in Baunatal, Regel operates around 40 mobile cranes together with a depot near Fulda. With the exception of five machines, they all come from the Liebherr factory in Ehingen. In addition to crane work, Albert Regel GmbH also offers heavy transport as well as machine and industrial relocations.
Overall, the success of the "Wahle-Mecklar" project is vital to Germany's energy transition and the transformation towards renewable energies. The use of high-performance power lines and modern, efficient mobile cranes is essential to ensuring the success of this project and achieving the country's ambitious renewable energy goals.