Foselev SA, a French crane rental contractor, has successfully dismantled an ageing port crane in Port-La-Nouvelle on the Mediterranean using its most powerful telescopic crane, the Liebherr LTM 1650-8.1. The crane had an 80-metre telescopic boom and Y-guying, which made it capable of handling individual components weighing up to 122 tonnes. The port, which is the third largest in France on the Mediterranean, handles a variety of goods such as wheat, fertiliser, coal, and oil. Three modern Liebherr mobile port cranes, including one LHM 280 and two LHM 420 models, now handle bulk and general cargo, rendering the ageing double jib crane over 30 metres in height obsolete.
The port authority commissioned Foselev SA, a nationwide rental company employing over 2,500 people with a fleet of 920 vehicles, including a large number of Liebherr mobile cranes, to complete the task. Its Foselev Sud Ouest outlet based in Port-La-Nouvelle coordinated the operation. The LTM 1650-8.1, Foselev's most powerful telescopic crane, was selected for the complex job, and its T5Y configuration made it perfect for dismantling the crane components. The crane's 80-metre telescopic boom and Y-guying demonstrated their strengths during the job, and the heaviest single component, the counterweight of the double jib crane, weighed 122 tonnes. The job was completed on schedule at the end of February 2023, satisfying the port authority.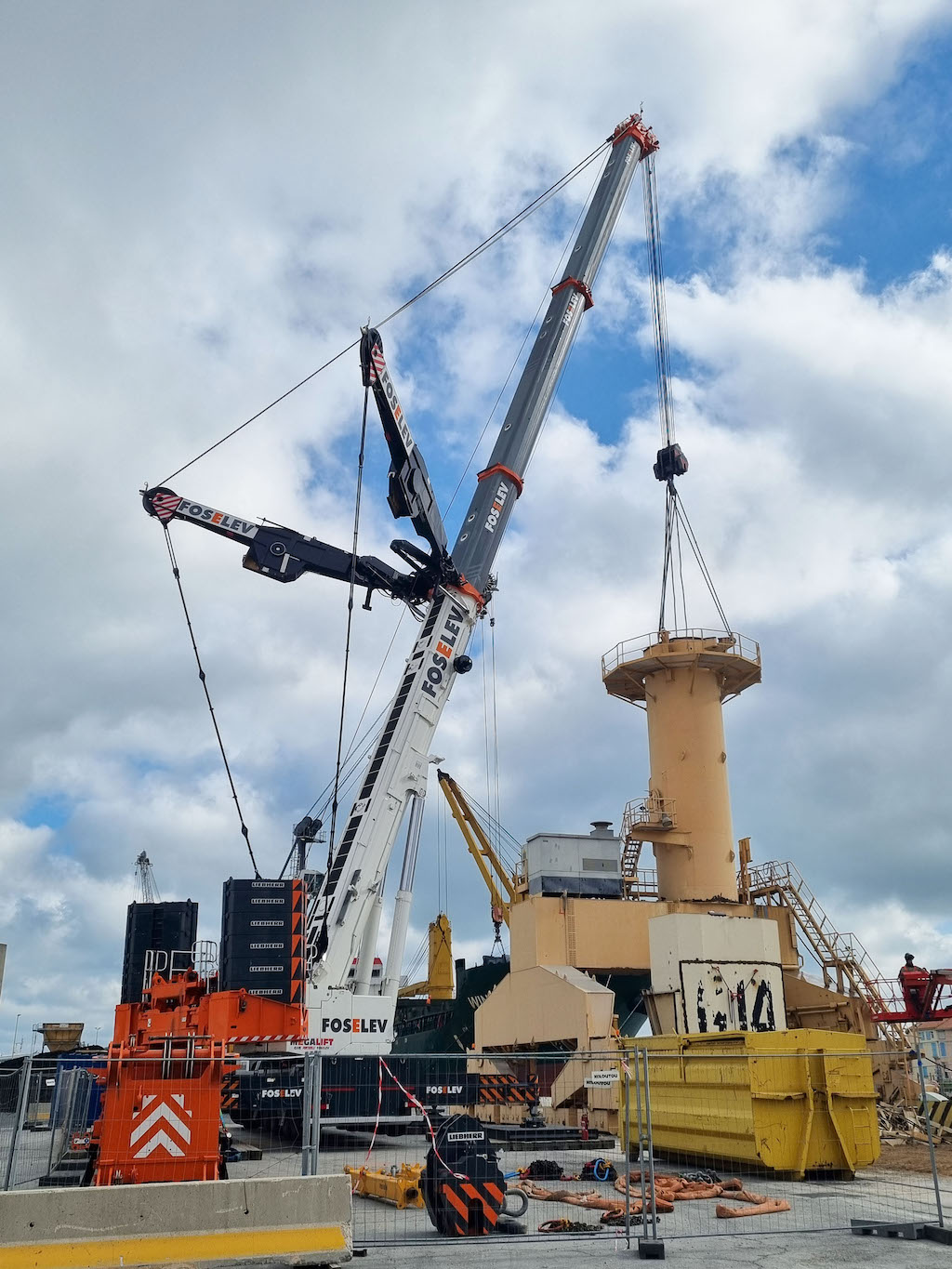 The Liebherr LTM 1650-8.1 mobile crane delivers top lifting capacities on eight axles with telescopic boom lengths of 54 or optionally 80 metres. With lattice extensions, it can achieve lifting heights of up to 152 metres and radii of up to 112 metres.
Thierry Volatier from the relevant Foselev outlet, which coordinated the crane job, commented: "To achieve the low support pressure of 6 t/sq m required by the port authority, we had to reduce the surface pressure, so a 21 sq m support plate was placed under each of the four outriggers of the LTM 1650-8.1. The strong wind (Tra Montagne) was a challenge with speeds reaching up to 100 km/h. Although the Liebherr crane is designed and approved to operate in higher wind speeds, we suspended work for a few days for safety reasons."