A major effort to decarbonize the maritime sector has received a boost in the form of a multi-million pound UK government grant awarded to the "Hydrogen Innovation – Future Infrastructure & Vessel Evaluation and Demonstration (HI-FIVED)" consortium. Led by zero-emission vessel provider ACUA Ocean in partnership with zero-emission infrastructure provider Unitrove, the consortium will receive over £3.8m of funding to build and showcase its innovative autonomous vessel and bunkering infrastructure technologies for liquid hydrogen.
The ambitious £5.4m project, set to be delivered in the autumn of 2024, aims to establish a green shipping corridor between Aberdeen and the Orkney and Shetland Islands, using hydrogen-powered autonomous ships to transport cargo. The project involves several key players in the maritime industry, including the Port of Aberdeen, the University of Southampton, Zero Emissions Maritime Technology, Composite Manufacturing and Design, Trident Marine Electrical, and NASH Maritime.
Unitrove, creator of the world's first liquid hydrogen bunkering facility, will look to deploy its mobile fuelling technology at the Port of Aberdeen in support of ACUA Ocean's bid to build and operate the world's first maritime autonomous surface ship powered by liquid hydrogen.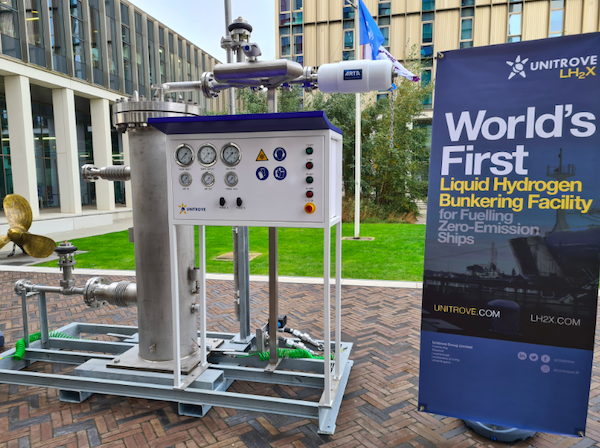 This project is part of the Clean Maritime Demonstration Competition Round 3 (CMDC3), announced in September 2022 and funded by the Department for Transport and delivered in partnership with Innovate UK. The Department allocated £60m to 19 flagship projects supported by 92 UK organizations, with the aim of delivering real-world demonstration R&D projects in clean maritime solutions. These projects will take place in multiple locations around the UK, from as far north as the Shetland Isles to as far south as Cornwall.
The CMDC3 is part of the UK Shipping Office for Reducing Emissions' (UK SHORE) flagship multi-year CMDC program. In March 2022, the Department announced the biggest government investment ever in the UK's commercial maritime sector, allocating £206m to UK SHORE, a new division within the Department for Transport focused on decarbonizing the maritime sector. UK SHORE is delivering a suite of interventions throughout 2022–2025 aimed at accelerating the design, manufacture, and operation of UK-made clean maritime technologies and unlocking an industry-led transition to Net Zero. This project is a significant step towards achieving a greener and more sustainable maritime sector in the UK.
Michael Tinmouth, COO of ACUA Ocean, said: "Delivering successful technology demonstrations is critical to de-risking future investment in maritime decarbonisation. This CMDC3 project brings together a consortium of innovative partners, subcontractors, and suppliers from across the maritime sector, who are all laser-focused on the need to reduce emissions and accelerate the adoption and commercialisation of new technologies."
Steven Lua, CEO of Unitrove, said: "We are absolutely thrilled to receive UK government support to enable real-world demonstration of the world's first liquid hydrogen autonomous vessel and infrastructure. Having built such a strong consortium of eight fantastic partners across the supply-chain, we can have great confidence that we will deliver something truly remarkable."
Marlene Mitchell, Commercial Manager of Port of Aberdeen, said: "We are delighted to be part of this transformational project, which is wholly in alignment with our green ambitions and that of the wider project team. Zero-emission fuels and vessels are an essential element in achieving decarbonisation within the maritime sector and green shipping corridors will play a key element in meeting the sector's goals. This project offers a unique opportunity for our newly operational South Harbour to act as a practical and at-scale living lab for net zero in the port and maritime sector and will directly address the theme of zero-emission infrastructure and will also consider feasibility to develop shoreside renewable energy generation at our port to supply vessels in alignment with DfT's 2019 Clean Maritime Plan."
Professor of Maritime Fluid Dynamics Stephen Turnock, Head of the Department of Civil, Maritime, and Environmental Engineering at the University of Southampton, said: "We are excited to play our part helping understand the techno-economic challenges of how autonomous ships can help shift trade to zero-carbon ships and deliver coastal highways."
Madadh MacLaine, CEO of Zero Emissions Maritime Technology, said: "We can do this, and we will with the support of DfT and Innovate UK. The UK government is pushing the boat out on zero-emission shipping, supporting UK innovators who are committed to tackling climate change full-on. The partners in our consortium are making no compromises. Yes, we are facing an existential crisis, but the problem can be solved, and we're here to solve it."
Warwick Buckley, Managing Director of Composite Manufacturing and Design, said: "It is very exciting to be involved with this very innovative and green project and to be part of the team to help realise zero emissions in the maritime sector."
Lee Sidaway, Director of Trident Marine Electrical, said: "Trident Marine Electrical are thrilled to be part of the consortium that was successful in being awarded funding from the Innovate UK CMDC Round 3. Envisioning a greener, more sustainable future for the industry, we have the opportunity to be at the forefront of developing this exciting innovative technology. This is great news, not only for Trident but for the marine industry as it continues to develop."
Dr Timothy Wilkes, Innovation Lead of NASH Maritime, said: "NASH Maritime are thrilled to be part of this consortium, using our maritime risk expertise to pioneer approaches to safety-case development and risk management for alternative fuels and unmanned systems, in a real-world context. The Marine Safety Management System we will develop will fill the gap that currently exists between vessel operator, port authority and regulator. This fits perfectly with our vision for a sustainable and accident-free marine environment."
Mark Harper, Secretary of State for Transport of the United Kingdom, said: "Our maritime sector imports 95% of goods into the UK and contributes £116 billion to our economy – more than both aviation and rail combined. With growing the economy one of the government's top priorities, we must continue our efforts to ensure the UK remains a pioneer in cutting-edge clean maritime solutions. This funding will help to do just that, bringing emission-free concepts to life and fuelling innovation."