As dawn breaks, a green vehicle from the Belgian company Mathieu enters the Famenne-Bétons yard in Marche-en-Famenne. Behind the wheel of the VarioMAX Plus 2+4 low loader is Fabrice, an experienced heavy goods driver who navigates towards the parked crusher, which is ready for its next task. Given his familiarity with the situation and his trust in the new vehicle combination, Fabrice is confident as he steers. He begins by uncoupling the front 2-axle bogie before taking control of the 68.5-tonne crusher. Slowly and steadily, he guides the massive machine towards the transport vehicle.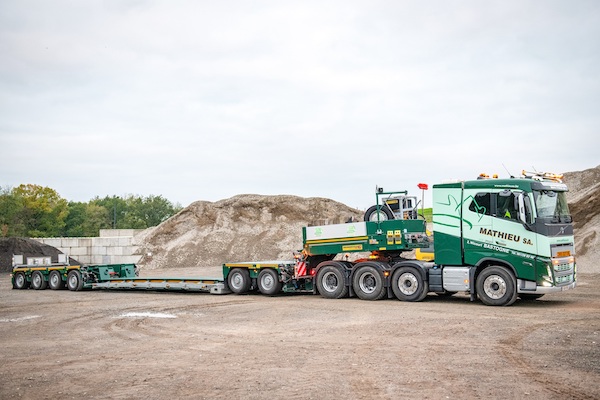 "We are very happy with the VarioMAX Plus.We already had thoroughly positive experiences in the past with a similar type of vehicle made by Faymonville.Now we have taken the next step", says Thomas David, the person responsible for quality at Mathieu, explaining the motives for acquiring this low bed semi-trailer.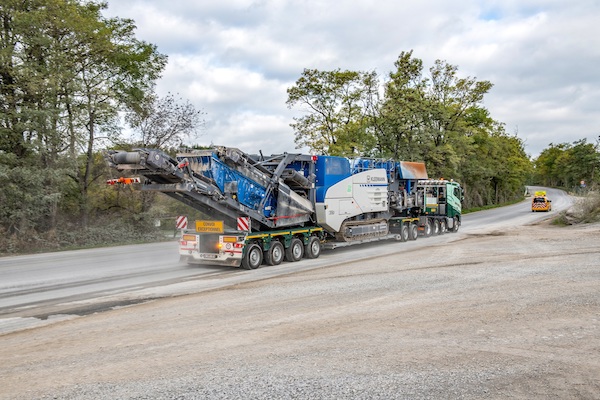 As the crusher approaches the low bed, it gradually inches forward centimeter by centimeter. The Kleemann-branded vehicle carefully climbs up the ramps and finally settles into the ideal position on the steel mattresses. Fabrice then sets the controls aside and walks over to the tractor unit. With his expertise, he deftly connects the front bogie to the hook receptacle on the low bed. The entire vehicle combination, including the crusher's outrigger, spans an impressive length of 28 meters. Once everything is securely fastened, the setup is ready to hit the road.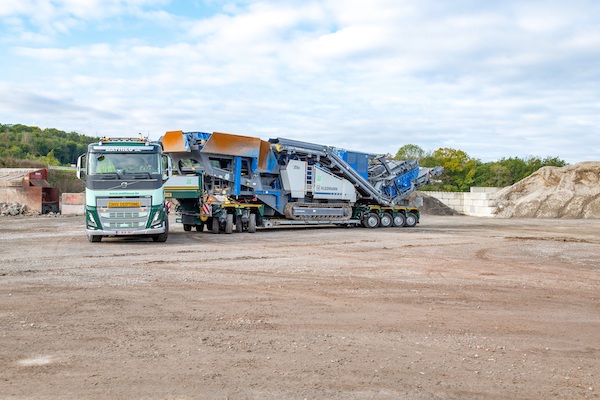 "Thanks to the hydraulically steered 19.5" pendle-axles on the VarioMAX Plus, maneuvering is possible in the tightest of spaces," says Thomas David, pointing out another aspect that regularly pays off for Mathieu on a day-to-day basis. The trip is a short one this time, with the final destination reached after only ten kilometers. Such tasks are routine for the Mathieu Group, which is committed to recycling construction materials. As a result, they are likely to encounter even heavier crushers and construction machines in the future.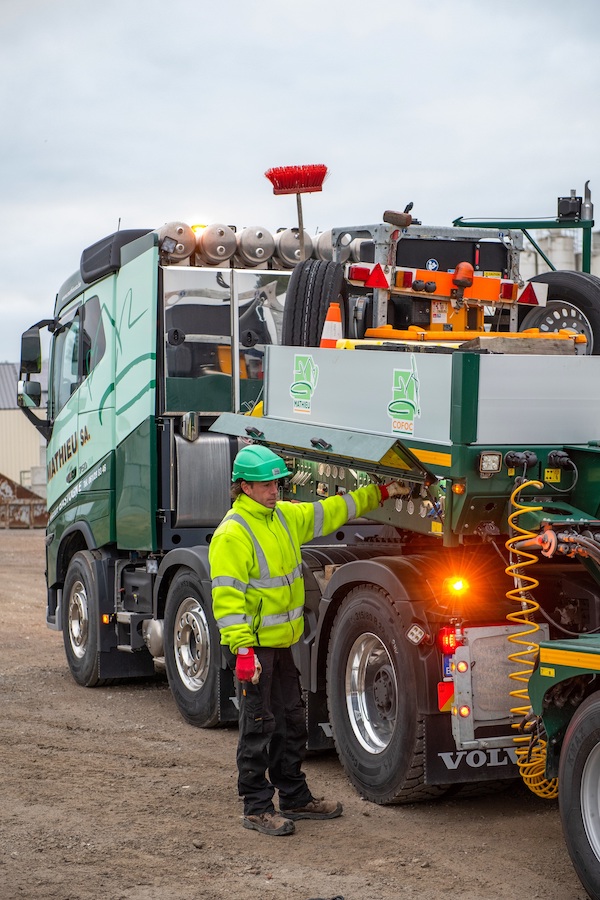 Fortunately, the VarioMAX Plus is equipped to handle these challenges. Thanks to its modular design, Mathieu can add "joker axles" to the front and rear bogies, ensuring that the vehicle combination remains adaptable and future-proof.  For Thomas David this is a plus point to be able to cater for new circumstances. "These joker axles enable a flexible adaptation of the combination to load, legal payload and routing.If it is necessary, we will not hesitate to make use of the joker axles."