The floating production, storage and offloading (FPSO) vessel for the Greater Tortue Ahmeyim LNG project, operated by BP, has begun its voyage to the project location in the waters off Mauritania and Senegal. 
The FPSO vessel set out on January 20, 2023 from Qidong, China, following the successful completion of construction and sea trials over a period of 3.5 years. The vessel will now make a 12,000 nautical mile journey through Singapore before reaching its final destination, located 40km offshore on the maritime boundary of Mauritania and Senegal. 
The vessel plays a crucial role in the comprehensive GTA development, which also comprises subsea development of gas fields and floating LNG facilities close to shore. The initial phase of the project is expected to yield an annual output of around 2.3 million tonnes of LNG.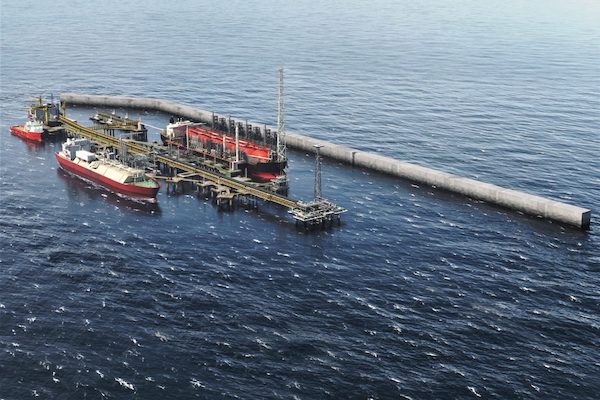 Rahman Rahmanov, bp's vice president projects for Mauritania & Senegal said: "We are developing one of the world's most unique and innovative gas projects and the FPSO forms one of the most important components. Achieving the successful sail away of the GTA Phase 1 FPSO is a testimony to the tremendous partnership with our contractors Cosco Shipping and Technip Energies. By working together as one team, we have been able to create a culture of resilience and focus on safe delivery. We have relentlessly focused on safety, quality, and delivery."
The FPSO vessel will process natural gas by eliminating condensate, water, and other contaminants, before transporting it via pipeline to the FLNG facilities located 10km offshore. Equipped with eight processing and production modules, the FPSO will handle an approximate volume of 500 million standard cubic feet of gas daily.
The FLNG facilities will primarily convert the majority of the gas into LNG for export to international markets, while a portion will be used to meet the increasing demand in the host countries. Condensate will be periodically transported from the FPSO to shuttle tankers for export to the market.
The FPSO, located in around 120m of water, will typically accommodate up to 140 people and serve as the production team's residence. The FPSO, which is the size of two football fields and 10 stories high, is constructed of over 81,000 tonnes of steel, 37,000m of pipe spools, and 1.52 million meters of cable. It has undergone more than 330,000 inspections.
Gordon Birrell, bp's executive vice president of production and operations, said: "This is a fantastic milestone for this important project, which is a great example of bp's resilient hydrocarbon strategy in action. The team has delivered this in a challenging environment, including through COVID, always keeping safe operations at the heart of what they do. With the continued support of our partners, Societé Mauritanienne des Hydrocarbures in Mauritania, Petrosen in Senegal and Kosmos Energy, we remain committed to helping both countries to develop their world-class resources in a sustainable way."