Denby Transport Limited's Special Projects division based in Lincoln has finished installing a 51-ton generator using Enerpac SCJ-50 cube jacks as part of a UK power generation infrastructure project. The use of cube jacks instead of traditional wooden cribbing enabled a faster and safer generator installation.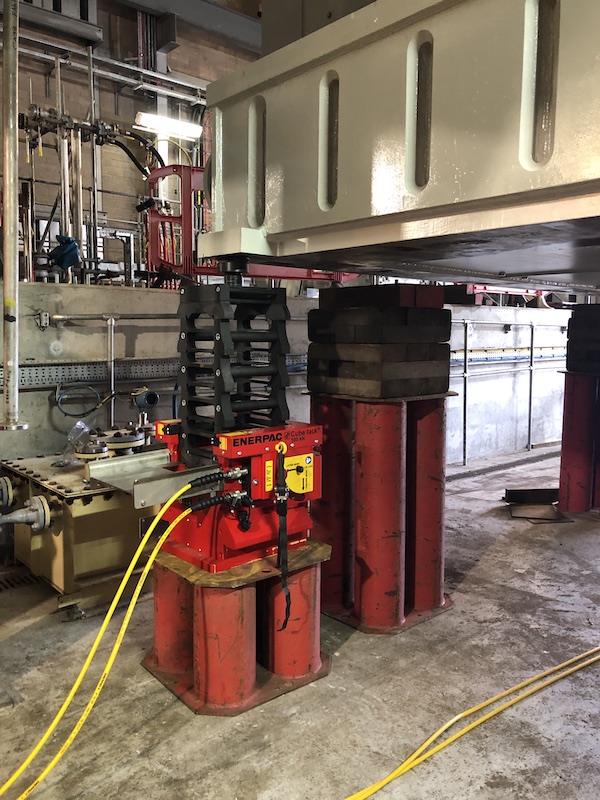 The 5m long generator, transported on a Denby Transport flatbed trailer, was lifted off the trailer using four SCJ-50 cube jacks and lowered onto static load holders. The cube jacks were then repositioned on 0.5m high static load holders to complete the lift to 2.35m, allowing the generator to be skidded into its final resting position.
For Denby Transport director of special project, George Elliott, the company's new SCJ-50 cube jack with its small footprint is ideal for confined spaces. "It's also easy to use, provides a stable lift and allows two man lifts where previously we'd have needed 3 or 4 people using conventional jacks which would have taken a lot longer."
The Enerpac SCJ-50 Cube Jack is capable of lifting 50 tons to a height of 2m. It employs a base lifting frame and self-aligning, lightweight steel cribbing blocks to deliver high-capacity and stabilized lifting. The incremental system mechanically secures the load as each cribbing block is manually added or removed, rather than relying on hydraulic pressure. Once the mechanical lock is engaged, the lift cylinder retracts, and an additional cribbing block can be added or removed.