Lifting and heavy transport specialist, Schares, relied on Enerpac for the installation of a double-track railway bridge in suburban Oldenburg, Germany. SCJ-100 Cube Jacks were used to raise and lower the bridge decks to their final installation position. Working in confined conditions, the SCJ-100s enabled the parapet walls to be raised above ground and then lowered onto the bridge bearings.
Each 17.3m long prefabricated bridge deck, weighing 98 tonnes, was supported on an SPMT and brought to the construction site. Four SCJ-100 cube jacks were then used to gradually raise the bridge deck, remove the SPMT and replace it with support jacks. The cube jacks were then placed on a support structure mounted on the SPMT and positioned under the deck. The bridge deck was raised up to 6.5 m. By precise and sensitive manoeuvring of the SPMT, the deck was positioned horizontally and lowered into position.  By synchronised lowering of the cube jacks the bridge deck was supported as it reached its final resting position.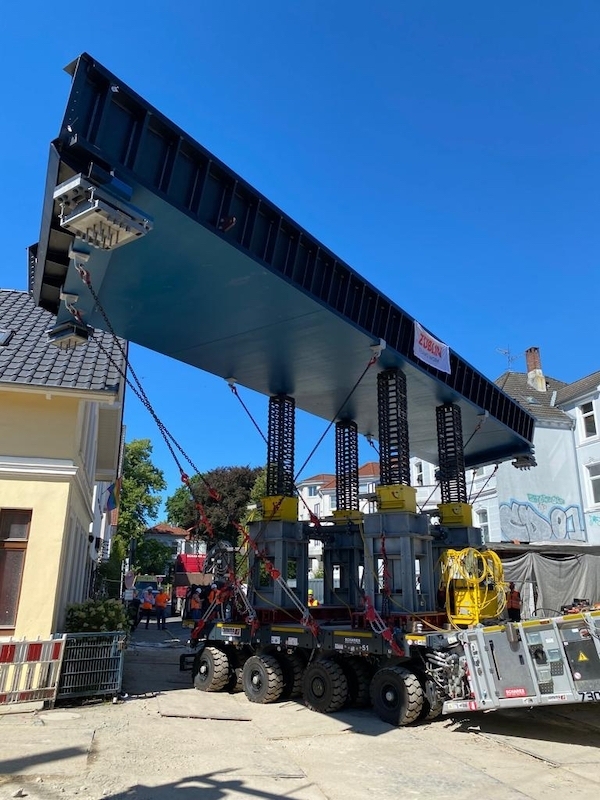 The Oldenburg-Wilhelmshaven railway line is being modernised to better connect the Wilhelmshaven container terminal to the national railway network. Schares decided to use its Enerpac SCJ-100 cube jacks and SPMT because the limited space conditions would not allow the use of a mobile crane.
"The Enerpac SCJ-100 cube jacks were the right solution for this project," says Christoph Schares, managing director, Schares GmbH. "The load capacity, as well as the small footprint and installation height of the cube jack with a up to 3m lifting height, made this project possible."