Over 170 companies attended the 'Experience Days' at Enerpac Heavy Lifting Technology at Hengelo, The Netherlands. Highlights of the event included the first opportunity to see new ML40 Mini-Lift Gantry, E-Mover Load Skate system, and JS-Series Jack-ups and SCJ-Series cube-jacks and SL telescopic hydraulic gantries 'in action' together with the first European showing of Enerpac's rotor removal system for generator maintenance.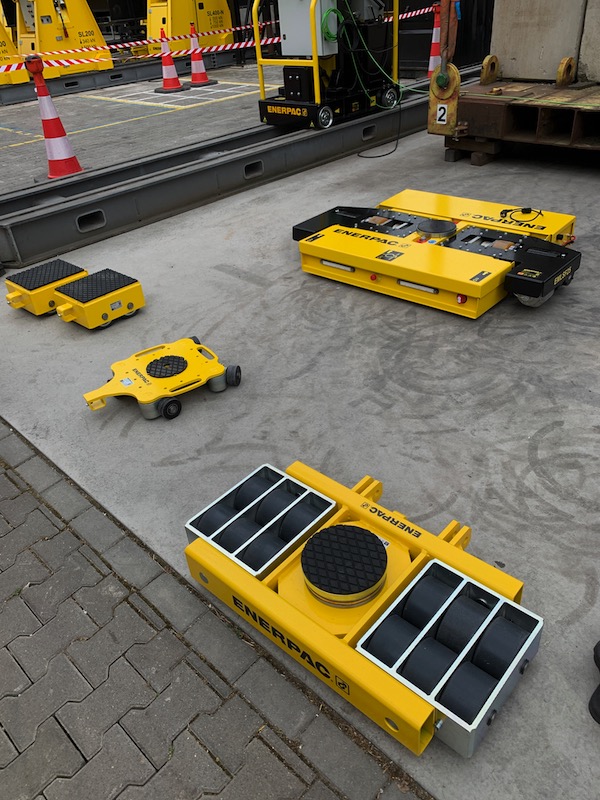 In the three years since the last customer event, Enerpac has significantly expanded its range of industrial moving systems for heavier lifts in more confined spaces. The ML40 Mini-Lift Gantry is Enerpac's smallest hydraulic gantry designed to be portable, simple to set up, and easy to use. With a 40-ton lifting capacity in all three lifting stages, it is the ideal solution for machinery movers who need to move machines and equipment in compact spaces.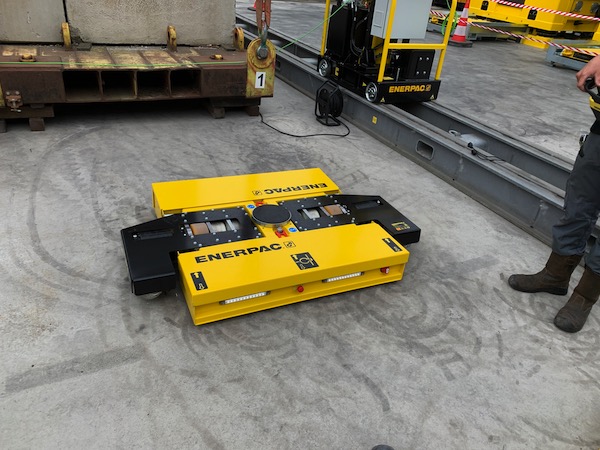 Ahead of its official launch in July, Enerpac demonstrated the new EMV-Series E-mover battery powered load skate. The self-propelled skate features a central load bearing plate and is designed to be used in conjunction with the Enerpac MLS-Series wheeled load skates. The E-mover on show featured a hydraulic lifting cylinder in place of the load bearing plate and had a 50 ton load capacity split between the E-mover and wheeled load skate. The self-propelled skate and lifting cylinder are operated by a wireless remote control. Battery life for the E-mover is expected to be between 3-5 hours dependent on usage.
The Enerpac jacking lift systems now range from the SCJ-Series 50T Cube-Jacks with a 200T lift capacity to the JS-Series JS-750 with 3000T lift capacity. Centrepiece of the Experience Days was a JS-500 jack-up system lifting 450T at a height of 3m, well within the jack-up's capacity which exceeds 2000te, in preparation for factory acceptance testing to a height of 15m.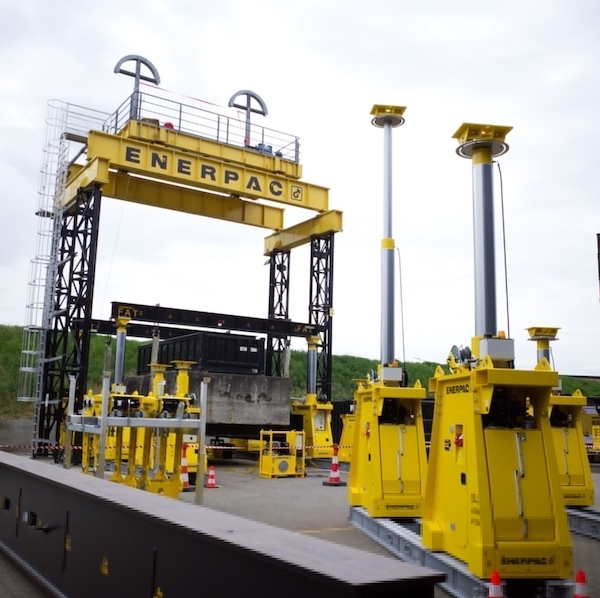 Established Enerpac SL200, SL300 and SL400 telescopic hydraulic gantries were also exhibited together with low-height skidding systems and turntable for rotating loads up to 400T. For a smoother travel, the Enerpac ETR-Series Trolley Systems allow the continuous smooth movement of heavy loads up to 800T, including acceleration and deceleration. Often used in combination with a cube-jack, the Experience Days included a large JS-250 jack-up on a trolley system typically used to move tunnel boring machines.
"Experience Days were a great success. Great to receive so many of our customers again; we've progressively developed new lower capacity systems to support the needs of industrial & machinery movers, while simultaneously enhancing our jack-up and large capacity hydraulic gantries for heavy lift contractors," says Jeremy Stubbs, Commercial Director, Enerpac Heavy Lifting Technology.
The Experience Days also include the first European presentation of the Enerpac generator rotor removal and installation system. It is a custom developed product for removing and installing a rotor up to 12m long and weighing up to 75T in a power plant's generator. Designed to comply with the varying dimensions and challenging accessibility of a plant's generator, Enerpac offers several configurable solutions which use hydraulics to push, pull and position the rotor and allow safe working at height.
"Traditional methods for removing a rotor from a generator's rotor are very labour intensive; requiring a large number of operators and a high level of coordination to complete. The time and labour required to remove and install the rotor is significantly reduced using Enerpac's hydraulically actuated system while improving safety and security of handling critical powergen assets," notes Jeremy Stubbs.