Sarens has recently relocated the Pharaoh Cheops' ship from the Khufu Boat Museum to its new location at the Grand Egyptian Museum in Cairo located ten kilometres away. Relocating a length of 43.6 metres, a width of six metres and a weight of 20 tonnes does not normally pose any difficulties for heavy goods hauliers. However, it was the fragility of the 4,500-year-old sun barque that posed a major challenge here. In order to avoid damaging the excellently preserved ship which according to legend was supposed to take the soul of the deceased pharaoh to the afterlife via the primordial ocean, it was not allowed to tilt under any circumstances.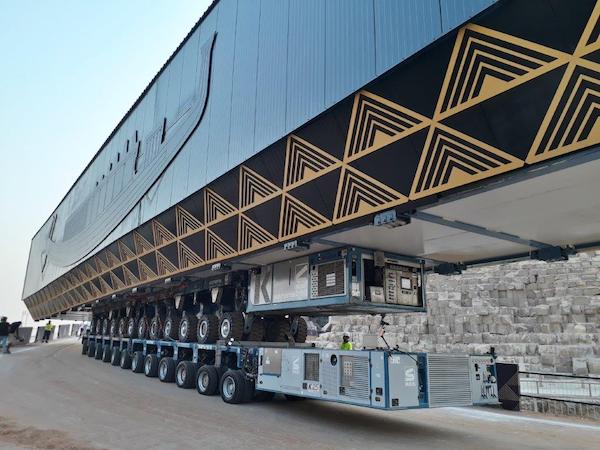 The Belgian heavy-load logistics provider positioned the ship in a specially-designed steel cage weighing 80 tonnes. It was then to be placed on self-propelled modular transporters from Kamag,, ready for transport. In addition, Sarens constructed a 52 metre long steel bridge. Twelve K24 axle lines were initially able to precisely manoeuvre under the boat in order for it to be subsequently lifted out. The Sarens professionals then manoeuvred the boat out of the museum on the K24 module transporters through the narrow opening in the museum wall, which provided only a few centimetres of tolerance, and positioned the twelve K24 axle lines on twelve K25 SPE axle lines.
The arrangement of the K24 and K25 axis lines respectively on top of each other made it possible to keep the ship in the steel cage exactly horizontal at all times. In effect, Sarens used the already high axle compensation of the hydraulically supported pendulum axles of the modular transporter twice. Whilst being protected in this way, the "solar boat" finally arrived safely at the Grand Egyptian Museum.