Kalmar has signed a one-year agreement with Norwegian rail operator CargoNet covering the field-testing of a Kalmar Electric Reachstacker. CargoNet is Norway's rail-freight operator, focused on rail-based intermodal services within Norway and between Norway and Sweden. The company, which is 100% owned by Norwegian State Railways (Vy, formerly NSB), is headquartered in Oslo and employs approximately 400 people. CargoNet's equipment fleet already includes 18 Kalmar reachstackers and one Kalmar heavy forklift truck.
The Kalmar Electric Reachstacker to be field-tested by CargoNet will have a wheelbase of 7.5 metres and stacking capability up to 6 high. The maximum lifting capacity of 45 – 45 – 34 – 23 tons in the 1st, 2nd, 3rd and 4th rows respectively. The field test will analyse the overall function, performance, behaviour and durability of the electric powertrain.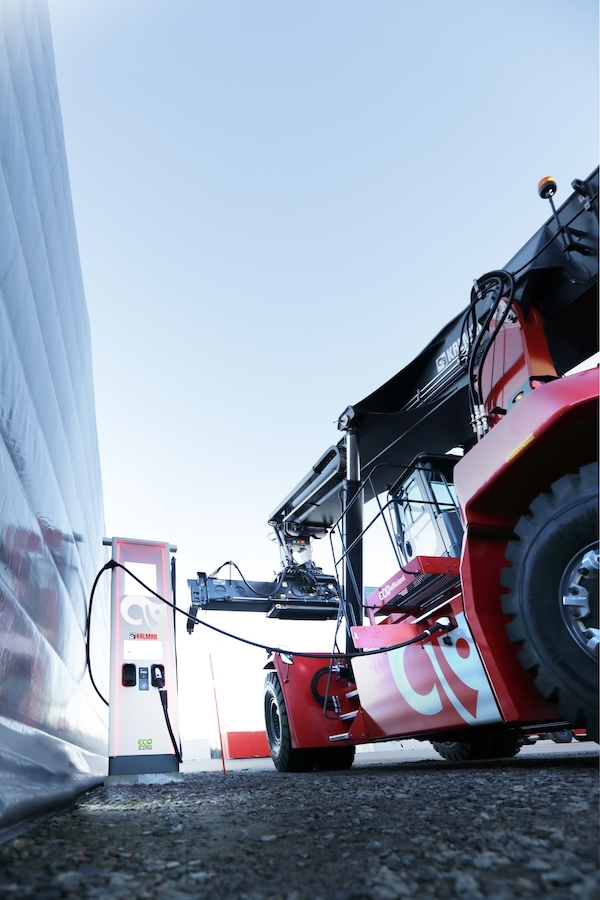 Kalmar introduced its new range of electric reachstackers to the market in December 2021. The range currently comprises eight models – six toplift and two combi – with lifting capacities up to 45 tons, stacking up to 6 high and 4 rows deep with a wheelbase of up to 6.5 metres. All models are powered by lithium-ion batteries and have Bosch Rexroth drivelines, with four battery capacities available to choose from.
Per Allan Kristensen, Terminal Manager, CargoNet: "Transitioning away from traditional diesel-powered lifting equipment towards fully electric drivelines is a must if we are to achieve our goal of drastically reducing the CO2 emissions from our operations. We are excited to be continuing our long-term partnership with Kalmar, an industry leader in eco-efficient cargo-handling technologies, by thoroughly evaluating their electric reachstacker offering."
Alf-Gunnar Karlgren, Vice President, Counterbalanced Container Handlers, Kalmar: "CargoNet's capacity requirements are a perfect match with the next step in the development of our electric reachstacker concept, which is to introduce a model with a 7.5 metres wheelbase. Our industry-leading eco-efficient solution will provide CargoNet with a powerful tool to help them achieve their ambitious emission-reduction targets.