A 430-ton bridge is being moved at Plaidt in the Rhineland Palatinate, Western Germany, and Markus Meckelholt, SPMT operator at Autokrane Schares, shares with us his day full of movements. "My biggest assignment so far," he says, summing up the day ahead. Representatives of the project initiators, the press, local politicians and neighbouring businesses want to be present at this significant moment for the region. A new rail overpass was completed on-site in just six months and is now to be transported into the remaining gap.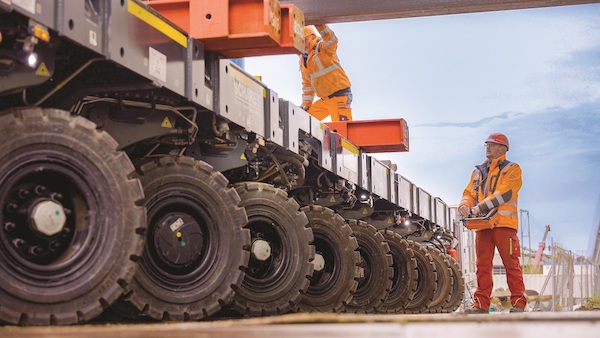 In the days prior, the Schares team assembled the side-by-side combination with a total of 24 axle lines. A lifting frame protrudes on it, which has been installed for lifting the bridge. Meckelholt has been working at Schares for already six years. Before that, he worked in classic heavy transport but in the meantime he has become passionate about self-propelled vehicle projects. He is aware of the pitfalls of the task ahead. "I always have to compensate for the slight slope with the SPMT. Hence the motto: just drive nice and slow and keep an eye on everything."
Fully focussed he steers the combination forwards centimetre by centimetre. In the process, colleague Joe Schönfeld assists him. "The centre of gravity of the load is quite low, so the whole thing is not very top-heavy," says Meckelholt, describing the attendant circumstances which he keeps under control. It is especially important always to keep an eye on braking and acceleration forces in SPMT projects. That's because the cargo doesn't usually forgive any mistake. The time frame for this shift is also tight. "Trains will be running here again on Monday."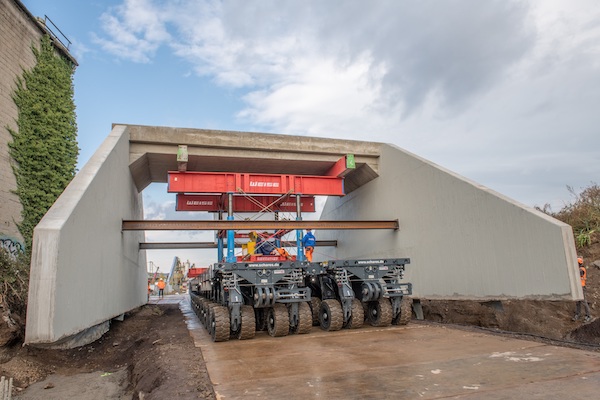 In the meantime, the approximately 100 metre long stretch has almost been completed. Markus Meckelholt positions the bridge over the final position with millimetre precision thanks to the lifting capacity and precise steering gear. Here, the recesses still have to be cleared before the bridge can be lowered over the iron rods of the concrete foundations.
With a load capacity of 60 tons, the structure will provide a safe crossing for decades to come. The day ends but the next mission is just around the corner. "There are several bridge elements waiting at a project near Cologne. And the time window is even smaller."