Enerpac has supplied a heavy lift trolley system to super and mega yachts refit and repair specialist, Amico & Co, for lifting and transporting yachts weighing up to 4000 ton. An integral part of Amico's new 'ShipLift' expansion at its Genoa shipyard, the Enerpac trolley system allows Amico to increase its shipyard infrastructure with six new work slots for additional mega yachts of up to 95m.
The Amico ShipLift system allows yachts that would otherwise need to be docked in dry-docks to be hauled from the water and put on hardstanding for repair and refit works. It uses a submersible platform, housed inside a dedicated dock structure, that raises the vessel up to ground level using a series of synchronized hoists. The Enerpac trolley system runs under the trestle supporting the yacht, lifts the trestle and moves it along a 'fixed-rail' system crisscrossing the shipyard.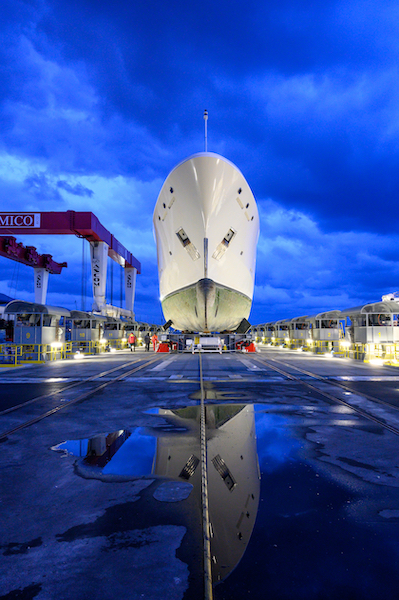 The entire lifting trolley system is controlled by a single handheld wireless control system, which allows one operator fully integrated, synchronized operation. Load movements are more stable due to the continuous movement and ability to precisely control travel speed including acceleration and deceleration, this makes it highly suitable for repetitive movements.
The ShipLift manoeuvring system is 100% zero-emissions as both the system for lifting the vessel out of the sea, and the trestle and track system that moves the vessels on the hardstanding, are powered electrically by the shipyard's own electrical supply.