Salt water, an explosive environment and a low-clearance ceiling were just some of the obstacles Enaval, an environmental and energy consulting company, faced as it set out to perform maintenance on a natural gas platform off the coast of Brazil. Under contract with Petrobras, a Brazilian multinational corporation in the petroleum industry, one of its assignments was to replace the process valves on the platform. And with the help of Enerpac, an industrial tools manufacturer, Enaval was able to find a solution that overcame three main facility and location limitations that many in the petroleum industry experience during maintenance.
Clearance was a key factor in deciding the equipment needed to remove and replace the process valves. The ceiling height aboard the rig was so low that a mobile crane or similar lifting system wouldn't have had enough overhead space to operate. So, Enerpac suggested its Super Lift Hydraulic Gantry as the compact size made it ideal for fitting in confined spaces. Equipment with self-contained hydraulics was required to uphold safety and security on the rig. The gantry also comes standard with wireless controls, allowing the operator to move freely around the gantry while controlling the load and position effortlessly from their fingertips.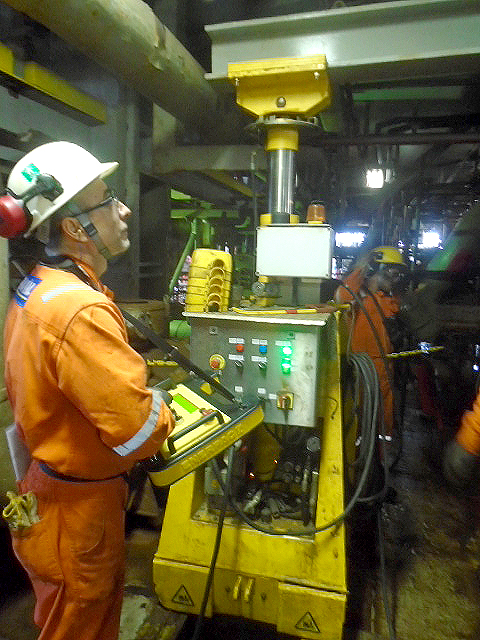 Performing maintenance on an offshore rig comes with environmental requirements and considerations because of the harsh nature of the operation. Enaval needed equipment that could withstand surrounding saltwater. And as a response, Enerpac gave the hydraulic gantry a custom paint job and stainless-steel cabinet for the legs to prevent corrosion. Also at the request of Petrobras and Enaval, an ATEX-certified explosion-proof motor was added since the equipment was being used in an explosive environment. 
"After taking these obstacles into consideration, it was clear that the Enerpac Super Lift Hydraulic Gantry was the best equipment for the job," said Marcelo Abreu, Heavy Lifting Technology specialist at Enerpac. "Safety, ease of operation and dimensions were important factors for Enaval when choosing equipment to remove and replace the process valves. Enaval was drawn to the Enerpac gantry for its compact size, wireless controls, self-contained hydraulics, and synchronized lifting and traveling. But what ultimately led Enaval to choose us was that these features came standard on the equipment with no additional cost."