In 2013 Hammar has released the MegaReach crane extensions, which allowed Sideloaders to stack two containers high in a 2nd row. With a Safe Working Load (SWL) of 5,5 tonnes at maximum reach, they were almost exclusively used for empty containers. The new generation features integrated extensions, a longer reach and a big upgrade to 15 tonnes SWL at maximum reach. It can stack containers in a 2nd row weighing up to 17 tonnes and is available for all Hammar chassis models. 
"This is the first crane extension for Sideloaders in the world to reach anywhere near these capabilities. Sideloader operators often face less than ideal situations, and the added versatility of these extensions will make many jobs much easier. Stacking containers will be more viable, and we believe it could open up completely new markets for Sideloaders,"says Bengt-Olof Hammar, CEO and owner of Hammar Group. 
Many factors decide how much is possible to lift, the reach of the support legs, the weight of the Sideloader, the strength of the extension construction, hydraulic pressure, cylinder sizes, and more. In terms of safety, it's all monitored by the Hammar Safety+ system.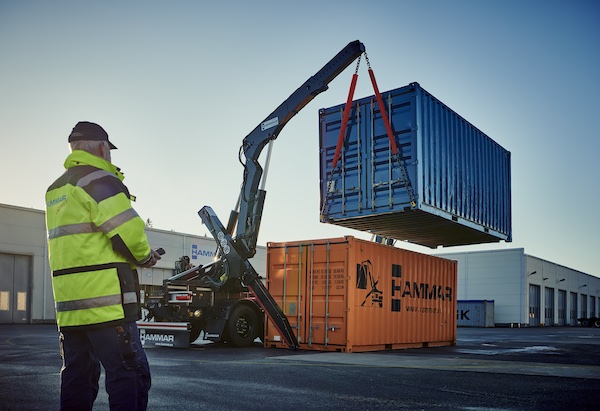 "We recommend our Hammar 110 model with its new "WideLeg" option for anyone wanting to use the full potential of the new MegaReach. With the new extra-wide support leg, it gives the stability needed to lift 15 tonnes at maximum reach and to stack 17 tonnes in a 2nd row without using any counterweights," says Bengt-Olof Hammar. 
The "WideLeg" is a new option available for the Hammar 110 model, where the support legs are designed with an additional 500mm reach.
Read more about Hammar sideloaders in the upcoming issue of Move It Magazine…