Engineered Rigging has relied on Enerpac strand jacks to complete a 96.3m span of the Cline Avenue Bridge over the Indiana Harbor and Ship Canal in East Chicago. The new 1901m Cline Avenue Bridge is an elevated expressway in Northwest Indiana that connects the SR 912 to I-90, crossing over the Indiana Harbor and Ship Canal in East Chicago. The bridge section over the Indiana Harbor and Ship Canal comprised 19 precast segments stretching 115.8m column to column.
Engineered Rigging developed a customised cantilever segmental bridge lift platform utilising back span tie downs to counter the cantilever overhanging the bridge. Four 63.5 tonne Enerpac strand jacks were used to lift the precast bridge segments, measuring 3m high, 3m deep and 7.6-9.1m wide, and weighed 68 tonne, into place above the waterway. Two beams extended from the platform with two strand jacks mounted on each beam. As each new segment was added the platform was moved forward using a combination of Enerpac launching cylinders and low-height skidding system.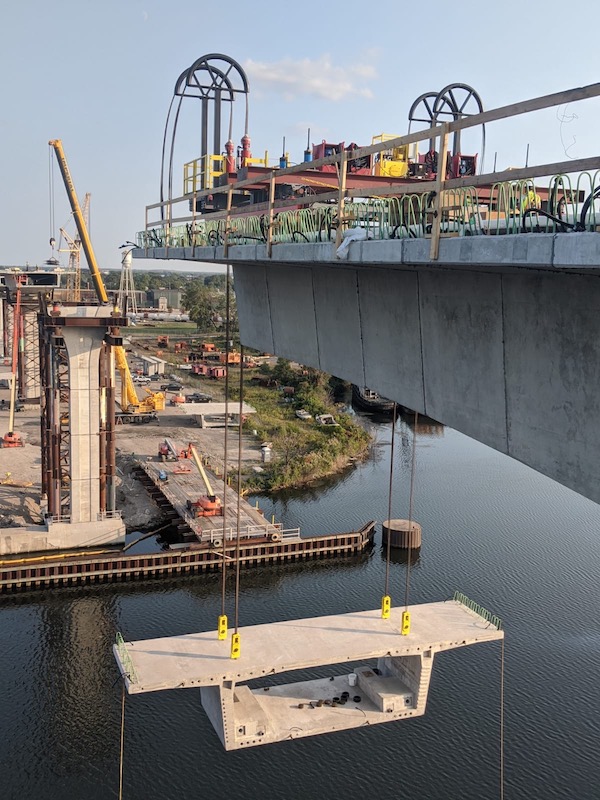 "Cranes are great for lifting heavy objects, but their sheer size and cost often makes them impractical for some applications. Enerpac strand jacks were integral to the safe and on-time completion of the project. They pack tremendous lifting capacity into a small footprint. The flexibility of the strand jack system has allowed Engineered Rigging to use this equipment on many other projects across multiple industries," said Christopher Cox, President, Engineered Rigging.
Engineered Rigging completed the bridge span in just 16 days. The new Cline Avenue Bridge opened on 23 December 2020. The two-lane bridge is expected to carry 10,000 vehicles daily.