Schares has invested in two new Eco1000 transporters from Cometto to transport bridge elements in Oberhausen, Germany. It was the company's premiere in the self-propelled segment. The first six of a total of eleven bridge elements had to be moved by Schares in a night-time operation. To lift the bridge elements, the ideal transport solution was found to be two 6-axle self-propelled vehicles, electronically-coupled in side-by-side configuration. The total payload capacity is 520t.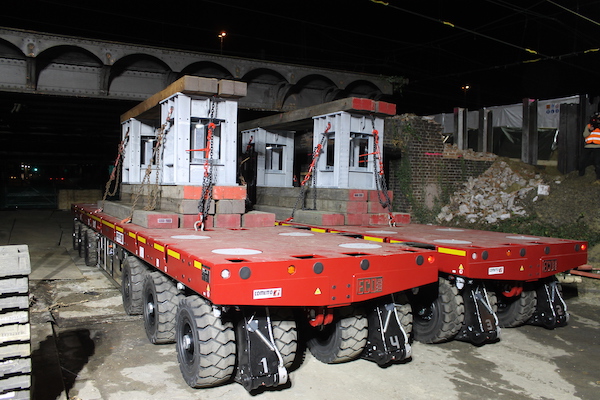 Ace up the sleeve
In Oberhausen, Schares employees Joe Schönfeld and Dominik Stoßborg alternately managed the operation of the self-propelled transport vehicle. A single remote-control with 4.3″ screen is all that is required to manoeuvre this side-by-side combination. On the evening in question, the whole road, including the underpass, was completely cordoned off. Lifting the 14m long bridge elements by crane was out of the question. It would have meant Deutsche Bahn having to dismantle the electrical overhead lines above the tracks at huge cost. The Cometto Eco1000 self-propelled vehicles were Schares' ace up the sleeve.
When the signal was given that the overhead lines were current-free, the modular combination was set in motion. To compensate for the height of the bridge, additional excavator mattresses and load bearing blocks were mounted on the side-by-side self-propelled vehicle. The Cometto Eco1000 advanced in lowered position under the bridge sections to get ready for lifting.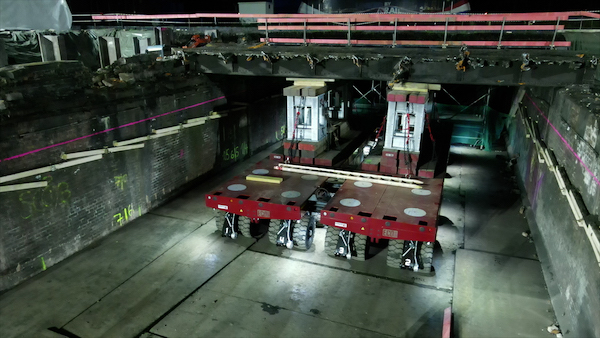 Mission accomplished
After precise positioning of the vehicles, the hydraulic bogies lifted two bridge sections at a time from the bridge bearings. They repeated this manoeuvre three times. This was the moment for the Cometto Eco1000 to show off its 700 mm axle stroke. The riveted bridge elements were then carried 30m back to a mobile crane, which took over and loaded them onto a flatbed trailer. It was a demanding night-time operation. After six hours of concentrated effort the site management received good news: "Mission accomplished!"
For Schares this project was its introduction to self-propelled transport. It was a fitting premiere. 28 years after the company purchased its first Faymonville 2-axle lowbed trailer. Christoph Schares said: "The self-propelled horizontal transport technology from Cometto will complement our cranes on our building sites in the future, enabling us to offer our customers real added value and above all, everything from a single source."