Hareket Heavy Lifting & Project Transportation was awarded a contract to move two 6,200 t passenger ships over a distance of 250 m to a floating dock at the Tersan Shipyard, Turkey. To handle the heaviest load in the company's history, Hareket employed a total of 200 heavy-duty axle lines with 1,600 wheels. The equipment included 56 Goldhofer PST/SL-E heavy-duty modules with hydrostatic drive and electronic multiway steering plus 36 Goldhofer conventional THP/SL heavy-duty modules. "Although the distance to be covered with the two ships was not very long, the weight of the vessels and the handling were a major challenge for Hareket, and we are proud to have managed it in such a short time," says Abdullah Altunkum, Member of the Hareket Board.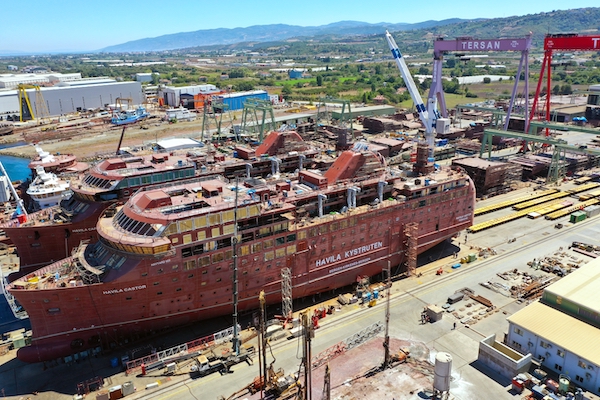 The two vessels, Havila Capella and Havila Castor, have been ordered for the Norwegian Havila Kystruten fleet and will go into service on the coastal route between Bergen and Kirkenes. About 124 m long, 22 m wide and 35 m high, the ships are state of the art in terms of eco-friendly design and engineering. They are powered by LNG and batteries but are also designed for retrofitting with hydrogen fuel cells.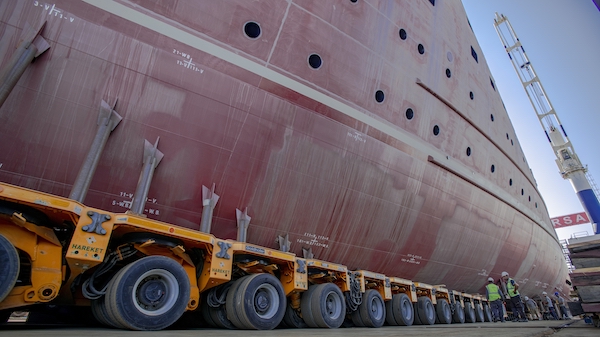 The operation also included moving the ships sideways by more than 2 meters over the short distance of the route for correct alignment with the floating dock. While the self-propelled modules with their electronic steering system could be steered using a single remote, a separate Hareket operator was needed to keep the steering of the conventional heavy-duty modules in sync. It nevertheless took the Hareket specialists only 4 days to relocate the two ships in the floating dock with a space of just 1.5 m between them.